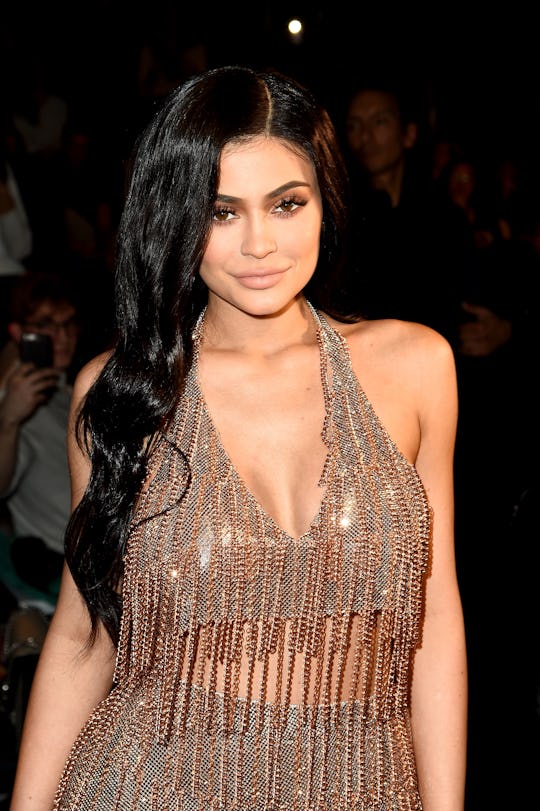 Nicholas Hunt/Getty Images Entertainment/Getty Images
Kylie Jenner Got A Manicure With Stormi's Initial, & It's Further Proof That #MomLife Suits Her
Kylie Jenner received flack recently for heading to Coachella without baby Stormi because moms can't have children and a social life. But along with rushing home to her baby, Jenner got a manicure with Stormi's initial to show her love for her little. Anyone who keeps up with Jenner's posts on social media can see that she has nothing but love for motherhood and she isn't afraid to show it.
After months of secrecy and speculation, Jenner announced her daughter Stormi Webster's birth on Instagram in February. She explained in her announcement that she kept her pregnancy under wraps out of a desire to do what was best for her and her baby. "I knew for myself I needed to prepare for this role of a lifetime in the most positive, stress free, and healthy way I knew how," she wrote. She went on to explain that she had no big "gotcha moment" or reveal planned. "I knew my baby would feel every stress and every emotion so I chose to do it this way for my little life and our happiness."
Jenner's preference for privacy ended when Stormi made her arrival into the world. Ever since, Jenner has shared numerous photos and videos of her growing baby to her various social media accounts. She has also posted snaps of herself that show her love for her little girl. Most recently, Jenner returned from her time at Coachella to get an acrylic manicure at the Modern Pamper Salon in North Hollywood that included a silver "S" on her pinky in honor of Stormi, People reported. She shared a video of the nude manicure to her Instagram story.
Her nails weren't her only accessory dedicated to the little girl, though. As she showed on Instagram, Jenner's Coachella outfit included a thin, gold necklace that reads "Baby Mama." Motherhood is clearly part of her identity.
On Sunday, Jenner shared another Coachella Instagram that included hot pink hair and a solid Mean Girls reference. "I'm not a regular mom, I'm a cool mom," she captioned the photo. Yes you are, Kylie. Yes you are.
Along with photos of herself, Jenner has also shared photos of little Stormi that make her love abundantly clear. She posted a photo of Stormi with her great grandma (Kylie's grandmother and Kris Jenner's mom), Mary Jo Campbell. She captioned that photo, "i mean.. does it get any better than this?" Kylie clearly can't imagine anything sweeter than her little girl and their life together.
The first photo that Kylie ever shared of Stormi was a close-up of her teeny, tiny hand (with what looks like perfectly manicured little fingernails, might I add) and a simple caption of her name. The love between the two of them in that photo is crystal clear.
Perhaps her most touching tribute thus far was the 11-minute-long video entitled "To Our Daughter" that Kylie uploaded to YouTube. The video shares her pregnancy journey with Stormi. After beginning with footage of Kris Jenner supporting Kylie through labor, the video features Kylie's close friend Jordyn Woods, who narrates Kylie's pregnancy. While she did choose to keep her pregnancy quiet at the time, this video shows how much Kylie loved bringing her little girl into the world.
Kylie has worn a lot of hats throughout the years: aunt, reality star, business mogul, but her favorite so far seems to be her role as Stormi's mom. Despite all of the shaming that she has endured since becoming a mother, no one can question her love and dedication to that little girl.
Check out Romper's new video series, Bearing The Motherload, where disagreeing parents from different sides of an issue sit down with a mediator and talk about how to support (and not judge) each other's parenting perspectives. New episodes air Mondays on Facebook.