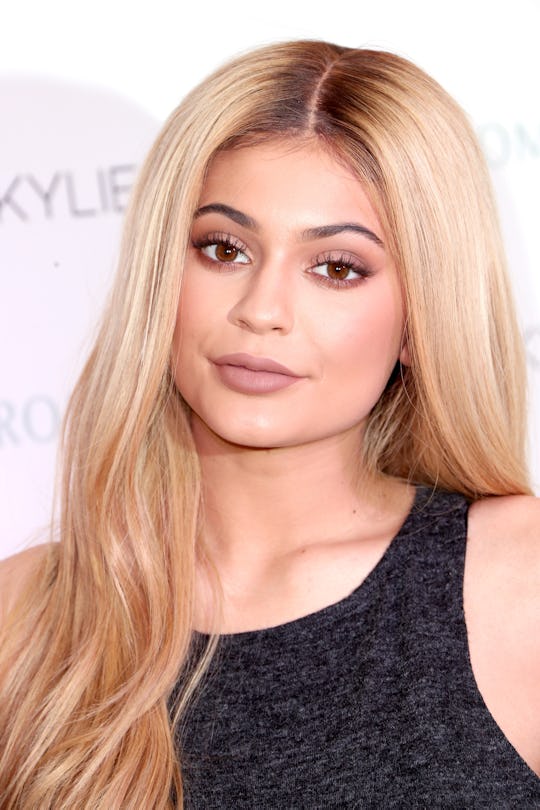 Frederick M. Brown/Getty Images Entertainment/Getty Images
Kylie Jenner Reportedly Has A "Favorite Name" Picked Out For Her Rumored Baby Girl
Here's some good news for those of you who have been getting a little tired of Kylie Jenner Baby Bump Watch 2017; it seems there may be a new development. As the youngest of the KarJenner clan continues to evade direct confirmation of her reported pregnancy with rapper Travis Scott, a source close to the couple shared some potentially exciting news with People. According to the publication, Kylie Jenner has reportedly chosen a name for her baby girl. Now fans just need her to admit that she is, indeed, expecting a baby girl to begin with.
The 20-year-old star of Life Of Kylie is reportedly expecting a baby girl in early 2018, according to Hollywood Life, though (as everyone knows) no one in the family has confirmed (or denied) her baby news just yet. Which would mean that the KarJenner clan would likely grow by three within the next few months. Kim Kardashian West is expecting her third child, a girl, via surrogate with husband Kanye West in the new year. And Khloé Kardashian is reportedly also getting ready to welcome her first baby, a rumored baby boy, with her Cleveland Cavalier boyfriend Tristan Thompson.
While Jenner, like everyone else in her family, is keeping quiet about her reported pregnancy, that doesn't mean she isn't making plans behind the scenes. Including choosing a favorite name for her baby girl that has "special meaning," according to People.
Unfortunately, Jenner is staying true to form and keeping the name private for now.
The source explained to People that the young makeup mogul is expressing "some concerns about giving birth and the recovery, but she isn't freaking out. But nothing to get too worked up about, apparently. "It seems more like first-time mum concerns."
As for that special name? Jenner is reportedly keeping it to herself for the moment.
But that doesn't mean the people of Twitter can't have a guess or two about what that name might be. Some people are guessing that she'll pick a name that begins with a "K" as was the tradition started by her mom Kris Jenner (with the exception of brother Rob Kardashian).
I don't see this happening; the three KarJenner kids who have already had children, didn't do the whole "K" thing. Other fans thought perhaps Kylie might name her baby after one of her famous lip kits, like Posie or Sugar or Velvet or some such name. Personally, I think if Kyle is considering a "special" name, it's probably something more emotional. Especially after seeing her on an episode of Keeping Up With The Kardashians, when she had this to say about her mom Kris Jenner during a dinner where the family was giving thanks:
I'm thankful for my mom, because I don't know what I would do without you. You're like, my favorite person on the planet. You really are. I hold you in high regard.
Perhaps the world will be welcoming a new little Kris Jenner (or Scott) into the world in the new year? Or maybe Kylie will name her baby after someone else in the family, like her beloved grandmother MJ, who just moved to Calabasas to be closer to the family, according to E! News.
Whatever Kylie plans on naming her baby, it seems she's having a grand old time getting the nursery ready. The same Jenner source told People that the youngest Jenner is "busy getting the pink nursery ready," adding:
She loves to talk about the nursery. She received a lot of gifts at her shower, including baby necessities and clothes. She has also bought a lot of things herself. Not wanting to get out much, her focus has instead been on buying things online for the baby.
Hopefully, Kylie will share her confirmed baby joy, and perhaps even her baby name, with fans soon enough. Because honestly I don't know how much longer they can hold out.
Check out Romper's new video series, Romper's Doula Diaries:
Watch full episodes of Romper's Doula Diaries on Facebook Watch.