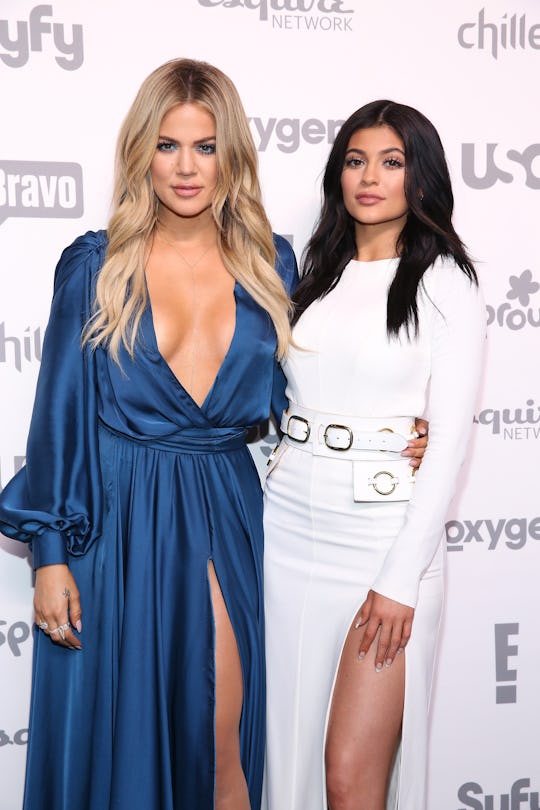 Robin Marchant/Getty Images Entertainment/Getty Images
Watching Kylie's Birth Apparently "Freaked" Khloé Out, & Every Mom Can Understand Why
Giving birth is pretty scary, and I'm not talking about the whole raising a human being thing either. I'm talking about the actual, physical pain of delivering a baby. I remember some of my friends asking me how it felt, and I would just shrug and say stupid things like, It hurts, but it's worth it. Why? because it's just sort of easier if you don't know what's coming down the pike for you. Sadly for Khloé Kardashian, she apparently didn't get the chance to stay blissfully unaware. Kylie Jenner recently opened up about how Khloé was in the delivery room when she gave birth, and it got pretty real.
Kim Kardashian West interviewed her youngest sister Kylie Jenner, for the Evening Standard recently, and the usually reticent Lip Kit mogul was surprisingly forthcoming. I'm guessing because it's her sister and she probably already knows most of the intel anyhow. And of course, there's just so much for the two of them to be chatting about these days, considering they both just became mothers within the last few months. Kim welcomed her third child, daughter Chicago West, via surrogate on Jan. 15 while Kylie welcomed her first child, daughter Stormi Webster, on Feb. 1 after months of radio silence and speculation.
I guess becoming a mom is making her a little more open these days.
Kylie spoke to Kim about her experience giving birth to daughter Stormi, or more specifically, what it was like to have sister Khloé, who was pregnant at the time, in the room with her. As Kim wisely noted in the Evening Standard interview:
And I think you would freak Khloé out, because she was in the delivery room with you.
Kylie agreed that she did, indeed, freak Khloé out, but she explained why it was so important for her to be in the room with her as well. She said, according to the Evening Standard interview:
But I really needed her. I needed Khloé in the room with me. I think it made her more scared. She was there for all my other sisters. She's just very, very nurturing. So she really helped me through the whole thing. Everyone should have Khloé in their delivery room.
And how did Khloé feel about it? According to Kim in the Evening Standard interview, she said afterwards:
Hey, you guys, never should a pregnant woman be in another delivery room until it's your time.
Duly noted, Khloé.
When the time came around for Khloé to give birth, she had a pretty strong support system in place as well. Her mom Kris Jenner was on hand, as well as sisters Kourtney and Kim (all of whom had already given birth and therefore weren't really in danger of being well and truly freaked out). And Kim was especially involved in the birth, according to her tweet; she apparently held her sister's leg while she pushed.
Back in January, Kim admitted that she wanted to do this for Khloé because that had always been something she had done for her, according to Refinery29:
That was Khloé's responsibility. She was so good at it. She was really like the doula, the coach, the everything all-in-one. I want to be that for Khloé.
While Khloé might not have been a big fan of getting a preview of the birth, Kylie told Kim during her Evening Standard interview that the two sisters really enjoyed being pregnant together:
We would just experience everything together. I was a little bit ahead of her, so we were both doing it for the first time and I would just like warn her of things that happened…the amazing things that are going on, and feeling the baby for the first time. So we would talk, like, on a daily basis about everything.
Now the three sisters will have something else to experience together; raising their baby girls. And possibly waiting for the final sister in the Kardashian/Jenner clan, Kendall, to give birth and freak her out with all the gory details.
Check out Romper's new video series, Bearing The Motherload, where disagreeing parents from different sides of an issue sit down with a mediator and talk about how to support (and not judge) each other's parenting perspectives. New episodes air Mondays on Facebook.