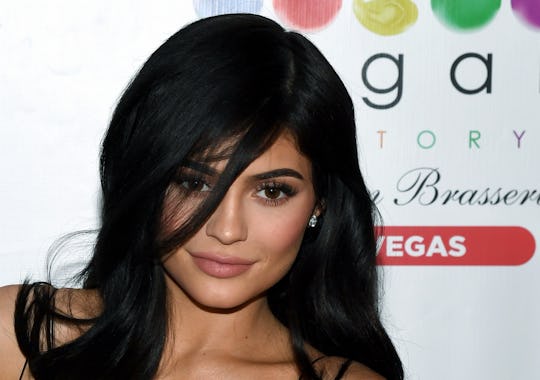 Ethan Miller/Getty Images Entertainment/Getty Images
Kylie Jenner Pregnancy Rumor Updates To Tide You Over Until The Big Reveal
Kylie Jenner is pregnant. Or she's not pregnant... the reality is, no one can be 100 percent sure until the young makeup maven confirms the rumors herself. So far it's been a lot of *allegedly* and *reportedly,* but nothing certain. Until she finally decides to bless us all with a full confirmation, fans will have to content themselves with the latest Kylie Jenner pregnancy rumor updates. Because I'm deeply suspicious that she is having a grand old time dangling her secret in front of the whole world.
The planet shifted on its axes back on Sept. 22, when multiple news outlets reported that the youngest member of the Kardashian/Jenner clan was pregnant with her new boyfriend, rapper Travis Scott. No member of the family has said a word about the rumored pregnancy so far, and they've also been tight-lipped about older sister Khloe Kardashian's reported pregnancy news which broke just one day later. At the time, a source close to the family told People that 20-year-old Jenner was "thrilled" by the news:
It is an unexpected but completely amazing turn of events that she could not be more excited or thrilled about. Everyone is overjoyed for her. This is the happiest she's ever been.
Since that day just over two months ago, Kardashian/Jenner baby bump watch has become a national pastime.
Since then there have been a few rumors.
Expecting A Girl
When Jenner posted a pic to her Instagram feed on Nov. 1 of her hand adorned with pink jeweled butterflies and pale pink nail polish, fans were convinced; it must be a sign that she's having a girl. She also posted a string of pink-themed Snapchats, and The Sun reported that an aerial shot of her home showed a pink marquee set up in her backyard.
Kris Jenner's Jammies
Kim Kardashian-West, who is also expecting her third child with husband Kanye West via surrogate, actually drank a sardine smoothie on The Late Late Show With James Corden rather than answer questions about her sisters' rumored pregnancies. Her mom Kris Jenner, however, might have let the cat out of the proverbial bag with a simple Instagram post. Jenner shared a picture of nine little pairs of Burt's Bees Baby pyjamas with the caption:
Thank you so much @burtsbeesbaby for the most amazing collection of family jammies ever and I am obsessed with the plaid! Can't wait to cuddle up with the kids #holidayseason thank you for a collection for every one of my grandchildren.
Very sweet but there's only one issue; at this point, Jenner only has six grandchildren. Oldest daughter Kourtney has sons Mason and Reign and daughter Penelope, Kim is the mother of daughter North and son Saint, and son Rob has a daughter Dream. Even factoring in the baby Kim is expecting via surrogate... that's still two extra pairs. Who are they for, Kris, who are they for?
Thankful For Her "Little Babies"
The Life Of Kylie star decided to take a little time out for some Thanksgiving trolling on her app; she wrote a sweet message about being thankful for her family, her friends, Kylie cosmetics... and her "little babies." According to Us Magazine she wrote:
Last, but definitely not least … my little babies! They may drive me crazy sometimes, but Normie, Bambi, Harlie, and Rosie … I love you!!!
Before the rumor mill starts running overtime with visions of Jenner carrying quadruplets; she means her dogs. Ugh.
If the pregnancy rumors are correct, I'm sure Jenner will let us know in due course. If they're not... I actually don't know if I will be able to forgive her for this colossal waste of time. Is that wrong?
Check out Romper's new video series, Romper's Doula Diaries:
Watch full episodes of Romper's Doula Diaries on Facebook Watch.