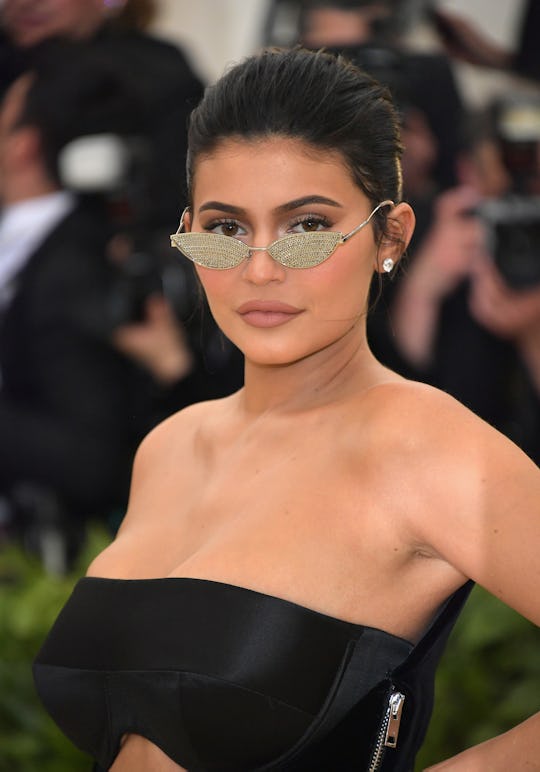 Neilson Barnard/Getty Images Entertainment/Getty Images
Kylie Jenner Says She Hasn't Exercised Since Giving Birth For This Body Positive Reason
Did you see Kylie Jenner at the Met Gala? Opinions about her dress and those weird glasses aside, the girl looked incredible. Regular person incredible, of course, but perhaps most especially mom to a 3-month-old baby incredible. But let's get real here; anyone who follows Jenner on Instagram already knows the Lip Kit mogul looks great. And now get ready for news that is somehow both depressing and uplifting; Kylie Jenner says she hasn't exercised since giving birth, and her reason is actually genuinely refreshing.
In a recent interview with Harper's Bazaar to promote her new makeup line collaboration with her mom, Kris Cosmetics Mother's Day Collection, she opened up about her workout routine since giving birth to daughter Stormi Webster on Feb. 1. Now before I tell you what she said, it's probably important to keep in mind that Jenner is just 20 years old, and as someone who gave birth at 21 I can tell you, things tend to bounce back pretty quickly. Even Kylie conceded in the interview that she figured she owed a bit of credit to her "Jenner genes" for her post-baby body. But when she was asked for some post-baby exercise tips, she was quick to point out that she didn't have any. Because she hasn't gotten into a workout routine at all.
As she told Harper's Bazaar, she hasn't worked out, and even if she plans to start it won't be for weight loss:
I really need to tone up and start working out just for health. I am honestly not even checking my weight all the time. I actually love my body—I love every stage that it's been through. I am as surprised as everyone else. I still feel like I'm pregnant; I'm eating whatever I want. I don't even have time to workout unless I wake up at like six in the morning. I am so busy. I do want to get more into working out, because my best friend Jordyn is so motivational. She works out if not once a day twice a day. I think it's just the Jenner genes.
All of that bragging about good genes aside, I actually think Kylie's attitude about loving the body she's in is important. Especially because she's such a heavy-hitting influencer for young girls and new moms alike. If she's telling people that she's happy with her body and isn't too fussed about trying to change anything, I salute her. It's a great message to pass along.
That being said, it's ok for new moms to miss their pre-baby bodies too.
Kylie's older sister Khloé Kardashian just gave birth on April 12 to baby girl True Thompson. As fans will remember, a few years ago the Revenge Body star started a workout and diet regimen to get healthier and lost a considerable amount of weight. And as happy as she was about having her first baby, she also took to social media a few times to lament the affect it was having on her body. Just one month after giving birth, Khloé has started to hit the gym and took to her Snapchat to share how the experience has changed since True's arrival, according to Page Six:
It's also a struggle trying to fit in working out between feedings. No two days are the same. You know, True is so great but still I can't predict if she's going to sleep for the full two hours or if she's hungry.
The truth is, there's no one "right" way to feel after giving birth. Sure, it's great if you're in a position to embrace your new body, but is that how everyone is going to feel? Probably not. If it makes you feel better to work out after having a baby, by all means go for it. If exercise isn't your think and you want to take your time, feel free.
Nobody gets to choose how you feel post-baby.