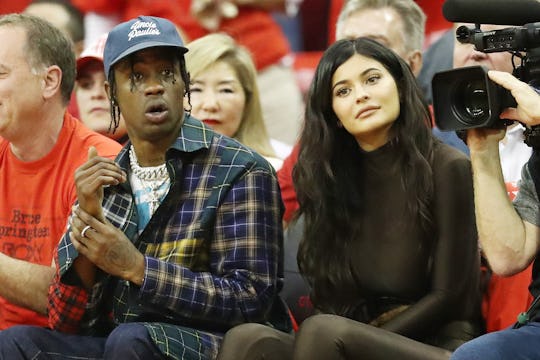 Ronald Martinez/Getty Images Entertainment/Getty Images
Kylie Jenner Claims Motherhood Has Made Her 'More Positive'
Being a mom changes everything, this we know for sure. It changes the way you see the world and the way you move through it. Sometimes those changes can be tough; being a mom can absolutely make the wounds of the world more difficult to deal with, make you fearful or mistrustful. But of course it doesn't have to be that way. Take a look at Kylie Jenner, for instance. Kylie says she's become "more positive" since becoming a mom in an interview for Vogue, and that she's also become nicer.
The 20-year-old Kylie Cosmetics mogul became a first-time mom in February when she welcomed baby girl Stormi Webster with boyfriend Travis Scott. It was obviously a life-altering moment for the social media influencer, so much so that she descended into radio silence throughout her pregnancy, only confirming Stormi's birth after the fact with a mini documentary she released called "To our daughter." The video, which Kylie released on her Instagram page and on YouTube three days after Stormi's birth on Feb. 4, has been viewed hundreds of millions of times. But all of that attention seems to roll off Kylie's back these days; as she told sister Kendall Jenner in the interview for Vogue Australia, becoming a mom has changed the way she looks at life.
Kylie told her sister in the interview with Vogue:
I don't think my life has changed since becoming a mum: I think the way I look at life has changed since becoming a mum. I think more of the future. I used to live each day as it came, and now I look at the future more.
Of course, it's generally pretty natural for a 20-year-old to live each day as it comes, if memory serves me right. But the fact that Kylie is able to look at her life before becoming a parent differently speaks to an admirable level of maturity and growth. Considering Kylie has been famous since she was a 10-year-old kid, when Keeping Up With The Kardashians started filming, it also points to a refreshing self-awareness, I think. And Kylie's turning that self-awareness into a positive force in her life:
I actually feel like I love myself more after I had Stormi. And I'm trying to be … I mean, I'm already a positive person, but just having fun, being positive.
For her part, Kendall agreed with her sister in the interview and couldn't help pointing out that Kylie had been "nicer to her" since giving birth. So that's a plus.
Kylie is also hoping to lead by example for her daughter in another way; self-acceptance. She pointed out in that same interview that she's never liked her ears, according to People, but now she's just trying to accept "everything about me;"
Even my ears, I always felt like they stuck out too far, and [Stormi] has the same ears as me and so now I love my ears. It's just having a different outlook on life so I can pass that on to her. I want to be an example for her. What kind of example would I be if she said she didn't like her ears, and then I didn't like them either? I just want to teach her that.
It's all too easy for critics to dismiss Kylie Jenner as being simply a product of a famous family, but I think even her worst haters should be able to see that the new mom is truly trying to be the best parent she can for her daughter. She's already focusing on so many great messages to pass on to her little girl and seems to be in a healthy place herself.
No wonder she's feeling so positive.