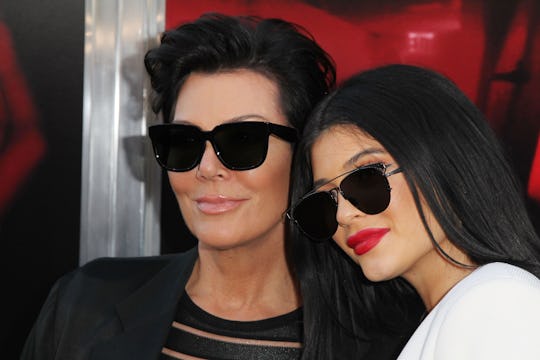 David Buchan/Getty Images Entertainment/Getty Images
Kylie Jenner Shared The Cutest Video Of Her Kissing Stormi
Sometimes it's easy to forget that Kris Jenner was a mom before she was a momager. Sure, she's managed to turn her daughters into an entertainment industry all their own, but I think there's this weird assumption that she doesn't really love her kids out there in the universe. That she sees them only as little dollar signs. That they don't love her right back. I'm here to call B.S. on this one, guys, especially after Kylie Jenner shared the cutest video of her kissing Stormi on Saturday. Because the video was actually a lovely tribute to the woman who raised her. And who quite clearly adores her.
Kris Jenner hasn't just raised business-savvy women who have gone on to run their own various empires (cosmetics, clothing, television, fashion). She also raised women who seem to be loving mothers. Kris is a grandmother nine times over, and as so frequently happens when your baby has a baby, this new generation appears to have deepened the bond between mother and daughters. Take Kylie Jenner, for instance. The youngest daughter in the Kardashian/Jenner clan is now a mom herself; she gave birth to daughter Stormi Webster with boyfriend Travis Scott on Feb. 1. Now that the Lip Kit mogul is a mom herself, she obviously appreciates the love and attention her own mom has always given her even more. As evidenced by a side-by-side comparison video Kylie shared on Snapchat on Saturday.
The video shows a flashback still of Kris kissing Kylie in an early season of Keeping Up With The Kardashians, when Kylie was just 10 years old. She's curled up in bed and pretending to be grossed out as her mom smothers her with kisses. It's adorable. The second video is one of Kylie kissing baby Stormi, who isn't even pretending not to love it. The look on Kylie's face? Pure love. It's gorgeous.
Now if you're unclear as to how Kylie feels about her baby girl, please check out this video of Stormi dancing that her mom shared on Instagram with the caption, "love you so much it hurts."
Despite the fact that Kylie is just 21 years old, she appears to feel a kinship with her mom these days that's unusually mature. In a recent interview the two women did with each other for Glamour UK, Kylie told her mom that she was inspired by her mom, especially Kris' commitment to always putting her best foot forward:
This summer I was re-doing my house, so I was living with you (Kris) for two months. We weren't doing anything and I would see her get up, get fully dressed with full makeup, look so glam, whilst I was in sweats. I would say, 'mom, we aren't doing anything today!' But she always looks so glam and put together everyday - that is my goal!
The mom admiration is a two-way street. After her daughter gave birth, she told People she was really impressed with what a good mom Kylie was to Stormi (and she totally gets becoming a mom at such a young age since she became a mom at 22 herself):
It goes by so fast. In the blink of an eye, she's already a month old. It's overwhelming when you're that young, and so things go by so fast and the moments slipped by. So enjoy it because all of a sudden they're 30.
I know Kris Jenner isn't everyone's cup of tea but she has a sort of strength and resiliency I totally admire. As a woman, as a mom, and as someone who someday hopes to turn my own family into an empire.
Wish me luck.