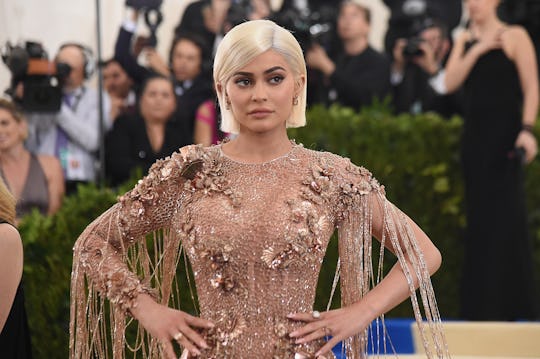 Nicholas Hunt/Getty Images Entertainment/Getty Images
Kylie Jenner Shares The Cutest Close-Up Shot Of Stormi, & She Couldn't Be Sweeter
Have you been dying to see a picture of little Stormi Webster? Tired of trying to content yourself with pictures of her cheek or her finger or the top of her little head? Well, Kylie Jenner shared the cutest close-up shot of Stormi, and it's probably everything you've been hoping for.
The Life Of Kylie star shared a short video of her 1-month-old daughter with rapper Travis Scott cooing and staring into the camera. I mean, after all of the subterfuge and rumors and sources claiming this and that for the past six months or so, it felt pretty amazing to finally get a glimpse of the little girl. Stormi Webster was born on Feb. 1 and is the first child for both Jenner and Scott, whose legal name is Jacques Webster (hence the little girl's last name). I think it's safe to say that Stormi's birth was one of the most anticipated of the past year, particularly since no one in the Kardashian-Jenner family would confirm or deny that Kylie was actually pregnant. Why the secrecy? As the Lip Kit mogul explained in an Instagram post after Stormi's birth, "I understand you're used to me bringing you along on all my journeys, my pregnancy was one I chose not to do in front of the world." And now that Stormi has arrived, her mom is happy to post a picture of her on Snapchat with the caption "My pretty girl."
Now that Stormi Webster has arrived and everyone is allowed to talk about her and know her name and such, both of her parents have been sharing little tidbits of information on social media. Like when baby Stormi turned hit the milestone of one month on the planet on March 1... both Jenner and Scott shared sweet pictures of her. Although neither really gave fans a good look at her face. Jenner posed with Stormi dressed up in a little fleece sleeper with bunny ears, and added the caption "My angel baby is one month old today."
For his part, the "Butterflies" rapper added a pic of daughter Stormi on Snapchat, but really only her pink sweatshirt that read, fittingly, "Daddy." Scott wrote on the photo that his "lil mama is one month today her favorite unit of course." I'm going to go out on a limb here and assume he meant her favorite parental until. And that he meant himself, and was probably joking before anyone loses their mind. Scott also shared the same close up of Stormi's face on his own Instagram with the caption "Our little rager!!!"
After the constant stream of speculation about Stormi Webster and her parents, one might think fans would be over the whole thing. Wrong, obviously. After only seeing Stormi in brief glimpses, like the photo Jenner shared in the days after her birth where fans were treated to a shot of her hand clutching her mother's finger and her tiny mouth, for many fans getting to see Stormi up close and personal was like seeing the sunshine after months of rain. So, like the opposite of a storm, I guess.
One clever fan even picked up on a family resemblance between mother and daughter.
As the Kardashian-Jenner clan continues to grow (next up to welcome a baby is older sister Khloé Kardashian, who is expecting her first child with NBA player boyfriend Tristan Thompson within a month), it's probably safe to say that fans will continue to need their KarJenner updates. Perhaps the most important thing to remember is that anything the family chooses to share is great, and anything they choose to keep to themselves is just dandy as well.
Although I wouldn't say no to a few more baby pics. Just sayin'.