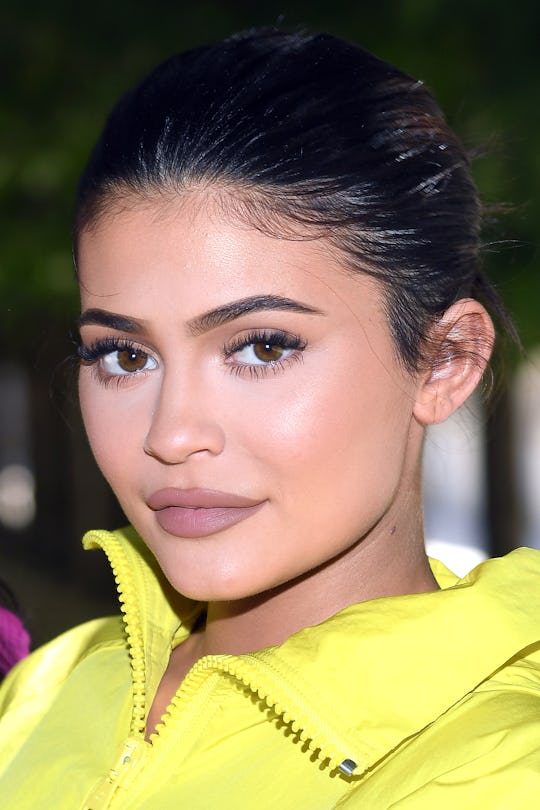 Pascal Le Segretain/Getty Images Entertainment/Getty Images
Kylie Jenner Showed Off Baby Stormi's New Hairdo While Hiding One Thing
Ever since her daughter's birth, Kylie Jenner has obviously been so proud of her baby and her new role as a mother. But, motherhood when you have such a high profile can be extremely stressful and Jenner is no exception. In a new Instagram post on Wednesday, Kylie Jenner showed off Stormi and her new hairdo, but still managed to hide her baby girl's face from the camera, which she's been doing as of late.
After months of keeping it a secret, Jenner finally announced both her pregnancy and the birth of her daughter in a single announcement video. The video was released on Feb. 4 and Jenner had given birth to Stormi on Feb. 1.
In a tweet posted on the same day as her announcement video, Jenner apologized for keeping her fans in the dark throughout her pregnancy. "My pregnancy was one I chose not to do in front of the world," Jenner wrote. "I knew for myself I needed to prepare for this role of a lifetime in the most positive, stress free, and healthy way I knew how."
Now, Stormi is 5 months old and fans are excited to catch more updates. On July 18, Jenner shared a new photo on her Instagram with no caption. In it, though, baby Stormi is sporting an adorable updo for the first time.
Fans thought Stormi's new hairdo was absolutely adorable. "Look at her little ball on her head, so cute😩💗," one fan wrote. Another added, "Omg!! Do I see a little ponytail Stormi??"
Another user commented, "Mommy daughter goals😍😍😍".
The photo is definitely cute, but notice that Jenner is carefully keeping her baby angled away from the camera. She even has one hand up on the back of Stormi's head and that's not an accident.
There are still photos of Stormi's face floating around on the internet, but you won't find any on Jenner's social media. Although the young mom had posted full pictures of her daughter before, she recently deleted them all. According to People, a source told them, "[Jenner] couldn't wait to show off Stormi to her fans. She posted pictures, because she was so excited to be a mom. Unfortunately, social media is a crazy place."
And isn't that the truth. Every day, celebrities deal with hate on social media in one form or another. From Ashley Graham having to smack down body-shamers to other celebrity moms, like Jenner's sister Khloé Kardashian, having to clap back at the parenting police, social media can be incredibly stressful.
Sometimes, social media becomes a place where nothing is off limits for cruel jokes or critiques — unfortunately, not even kids. As reported by People, users began to say rude things about Jenner's daughter so she removed all pictures of Stormi from her profile. "Kylie is shocked and doesn't want her daughter's pictures to be a part of something negative," the source reportedly told People.
It's unfortunately similar to a situation that Khloé Kardashian once found herself in. According to Us Weekly, after a Twitter user said Kardashian's daughter, True, was "not cute at all", Kardashian fired back, writing: "What type of disgusting human being are you? It's pathetic that you are this miserable in your life."
The fact that Jenner felt she had to remove her daughter's face from the internet is terrible, but props to her for taking whatever steps she felt were necessary to protect her daughter. Sometimes, it can be easy to get caught up in this sense of owing people information about yourself. At the end of the day, nobody is owed any photos or updates of Stormi or any other children.
And Jenner's real fans will appreciate any updates that this new mom is ready to give, especially when her baby girl is sporting a new 'do.