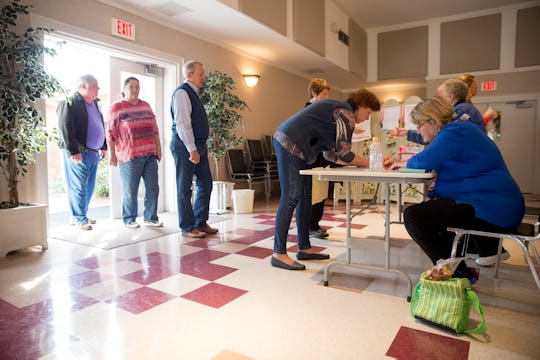 Kylie Jenner Teased Valentine's Day Lip Kits & The Internet's So Here For It — PHOTOS
Well, the polls are open and decisions are in the process of being made. This morning at 7 a.m. EST, polling stations were opened in South Carolina for the state's big 2016 primary. But who will be voting in the South Carolina primary today? After a long, bloody battle this week amongst the candidates, the Republicans will be casting their ballots in the Palmetto State and big things are bound to happen.
Take last week's primary in New Hampshire, for instance. After New York businessman and GOP hopeful Donald Trump swept in with a decisive 35.5 percent win, three of the candidates were like, "Trump? Really? I'm out." New Jersey Gov. Chris Christie, Virginia Gov. Jim Gilmore, and former Hewlett-Packard CEO Carly Fiorina dropped out after a dismal turn in the Granite State. The big surprise of the week was Ohio Gov. John Kasich, who came in at a respectable second place finish behind the irascible Trump.
The candidates have had another eleven days since the New Hampshire Primary to name-call, and make promises and accusations. And this time around, it's not just Trump who's throwing punches — although to be fair he did have a pretty glorious week of news-making, calling out George W. Bush and blaming him for 9/11, then weirdly duking it out with Pope Francis. Seems the Pope isn't so fond of the proposed border wall Trump would like to build between the U.S. and Mexico. "A person who thinks only about building walls, wherever they may be, and not building bridges, is not Christian," the pope said while flying back to Rome from Mexico earlier in the week. Trump called the Pope "disgraceful" and pouted for a time before calming down.
The other candidates got in on a little mudslinging this time around as well. Florida Sen. Marco Rubio and Texas Sen. Ted Cruz are furiously battling for second place and their verbal exchanges have been heating up. With any luck, the two senators will manage to put their differences aside and focus on the issues that matter to the voters in South Carolina. (If history is any indication... that may very well not happen.)
South Carolina is widely understood to be a safe-haven for evangelical and very conservative voters, and Trump has been losing ground with the hyper conservative crowd since his debate last Saturday. That means there is a possibility that Trump's usual double digit lead might be tapering off soon.
Cruz, meanwhile, is feeling confident he can hold strong against Trump, especially since it's the states conservative Republican electorate that will be making headlines with its decision this weekend. Democrats are slated to vote on Feb. 27, which means that Cruz could land a coveted victory with little else to distract the nation from his win — and that could propel him further in the polls. "The people of South Carolina, they want a conservative as the next president," Cruz said during an event at an old theater in historic downtown Charleston recently.
Before the polls close today at 7 p.m. EST, South Carolina will bring us one step closer to choosing the next Republican GOP. Stay tuned to the news to find out what will follow in the aftermath of that big decision.