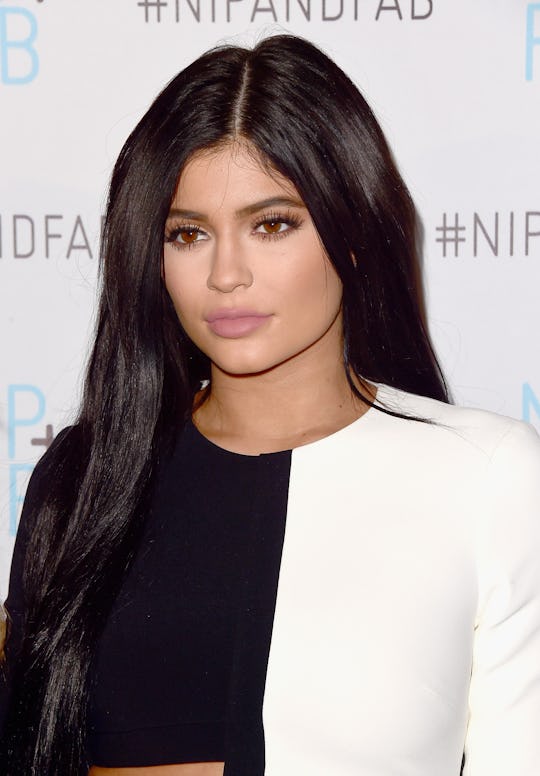 Kylie Jenner's Best Nine Instagram Posts of 2015 Show Some Serious Accomplishments Along With All The Glam
With the year quickly coming to a close, it feels like the right time to reflect on the highlights and bright spots of the past 12 months. When it comes to social media, it's actually pretty easy to do — and even celebrities are getting in on the act, using the new Instagram app 2015 Best Nine to see which of their posts were most popular with fans in 2015. Take the youngest member of the Jenner family, for example. Kylie Jenner's best nine Instagram posts of 2015 show that without question, the social media queen has had a great year. Amidst all the attention paid to her wardrobe, makeup, relationships, and family antice, Jenner managed to graduate high school, celebrate an epic 18th birthday, travel the world, and grow a popular makeup line. Not bad at all!
With more than 46 million followers on her Instagram feed, just about any photo that Jenner posts is destined to be a social media hit. The Keeping Up With The Kardashians star posted 960 photos to her feed this year, garnering a whopping 1,057,803,339 likes. Topping Jenner on the most popular list was big sister Kim Kardashian West, with more than 55 million fans on Instagram and 875 million likes for her 1,128 posts this year.
So what were Kylie Jenner's biggest moments of the year, according to Instagram? As you might expect, the list reflects some of the teen's best selfies and happiest moments.
9. Graduation Day
In the flurry of reality TV episodes, modeling, and generally living the fabulous life, it's easy to forget that Kylie Jenner was — until quite recently —a high school student. In a post to her fans on the morning she graduated from Laurel Springs High School this July, Jenner thanked her mom for the accomplishment: "I love my mom for doing this. Thank you for making this as normal as possible for me." With more than 2.3 million likes, it's clear her fans wish her loads of success.
8. "Mirror Selfie!"
Like all selfie addicts, Jenner can't resist a cool bathroom pose. This mirror shot earned 2,100 likes on Instagram.
7. From Her Mom's Great Gatsby Birthday
Kris Jenner threw a 60th birthday bash that can only be described as epic. Kylie Jenner and then-boyfriend Tyga posed for this shot and gave us a glimpse of the family's take on the roaring 1920s.
6. "Brown lips"
This year, the teen also launched a signature line of lip glosses and lip pencils to help fans recreate her characteristic pout. The sets are available online at LipKitByKylie.com for $29, and hopefully the gorgeous chocolate color from this IG post is still available.
5. "Ky Makeup"
Jenner's lipstick kit may be only the beginning for the reality TV star. In this IG post and several others, the teen hints that fans might soon be able to shop from a full makeup line. And if the 1.9 million likes on this photo are any indication, there could be an audience for it.
4. "Other Half"
Fans of Keeping Up With The Kardashians know that sibling rivalry often rears its head among the sisters. Kylie and big sister Kendall are no different, often competing for the spotlight when it comes to the fashion scene. With nearly 2 million Instagram likes, this photo of the Jenner girls reflects what they said to People magazine earlier this year: no matter what, the sisters support each other.
3. "Anaconda"
Posting from St. Barts this summer, Jenner showed off in a two piece snakeskin bikini and a pair of custom-made matching Converse Chucks that cost roughly $900, according to Us Weekly. Some 1.9 million fans gave the outfit a thumbs-up on IG, making the shot one of Jenner's most popular this year.
2. "Miami"
Clearly, the year couldn't be all about work for the young reality TV star. This pose of Jenner lounging in Miami earlier this year earned some 1.8 million nods from fans.
1. From One Of Her Many Fashion Shoots
With nearly 1,000 Instagram posts where her face and look are so distinct, it's interesting that one of Jenner's most popular posts was one where she was almost unrecognizable. This fierce post earned more than 1.8 million fan likes.
Image: Frazer Harrison/Getty Images