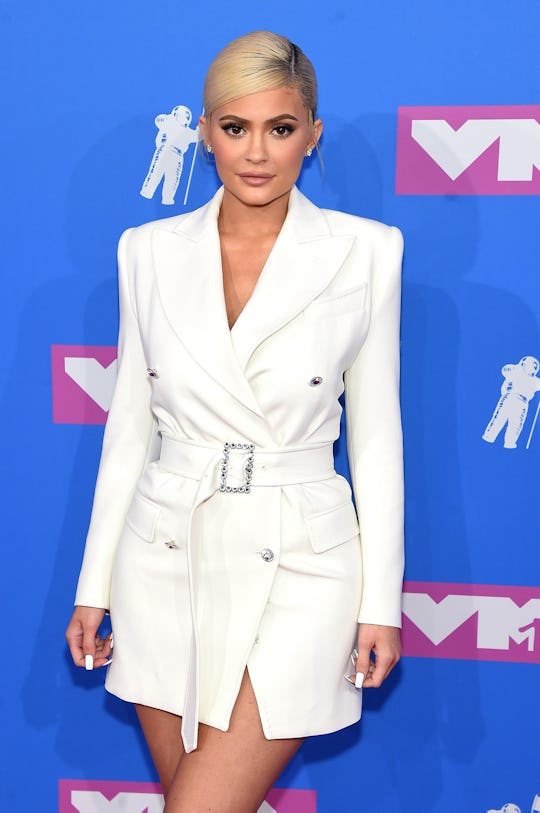 Jamie McCarthy/Getty Images Entertainment/Getty Images
Kylie Jenner's Car Seat For Baby Stormi Is Unsurprisingly On The Pricier Side
It's hard to believe that baby Stormi has now been alive and public knowledge almost as long as Kylie Jenner kept her pregnancy a secret. The 21-year-old makeup mogul has been loving life as a mother, and she's made it clear that she wishes she could have her 7-month-old daughter with her every second of every day. Something that undoubtedly helps with that is Kylie Jenner's car seat for Stormi, which Jenner recently shared a new photo of on Instagram.
This weekend, Jenner posted a photo to her Instagram Story of Stormi napping in the car. In the image, Stormi is dozing in her car seat, with a few toys and a giraffe pacifier on her lap. (Honestly, it looks like the giraffe is catching some Z's as well.) "I don't wanna wake her up," Jenner captioned the post, followed by a crying emoji. Honestly, you can't blame Jenner — Stormi looks so cozy and serene in her car seat. Come on, Mom, just five more minutes!!
This is not the first time Jenner has shared a photo of Stormi in her car seat. Back in April, People spotted a picture on Jenner's Instagram Story of Stormi, which was the first look at the car seat. "Sleepy Stormi," she captioned that shot.
In the photo Jenner posted in April, the word "Nuna" was clearly visible on her stroller's handle. According to People, Stormi uses the PIPA lite lx car seat by Nuna, which retails for about $400.
The PIPA lite lx's features include side impact protection, features to make set up easier, a heavy duty shell, a UPF 50+ shade, and an ergonomic handle, according to Nuna's website. Additionally, the car seat is able to turn into a stroller by pairing it with a Nuna pushchair. That sounds super convenient — especially for situations when your adorable baby is asleep. However, Jenner seems to prefer another option for wheeling her daughter around.
In April, Jenner posted a picture to Instagram of herself wheeling her daughter in a designer stroller that was covered with the Fendi logo. Mom couldn't let Stormi be the only one in Fendi, so she wore a Fendi mini dress and fanny pack to match. "Stormi strolls 🤑," Jenner captioned the post, followed by the money mouth face emoji. Based on the photo, the Fendi stroller looks like it might also be a car seat attached to a pushchair.
It's no surprise that Jenner has more than one car seat/stroller for her daughter. Not only is Jenner able to afford as many baby items as she needs, but she is also constantly on the go, and it's convenient to have multiple ways to transport your baby.
In between filming Keeping Up with the Kardashians, working on Kylie Cosmetics, and taking care of Stormi, Jenner's schedule is always packed. And as Jenner has said before, she likes to take Stormi out with her as often as she can. In a May 2018 interview with the Evening Standard, Jenner's sister Kim Kardashian (who conducted the interview) asked Jenner what the hardest part of early motherhood has been. Jenner replied:
[I]t was so hard to leave this morning. I'm like, "I'll be right back, I'm so sorry, I have to leave!" and she doesn't even know what's going on. I think about her all the time, anywhere I am. I would rather be with her or wish she can come everywhere. I can't wait till she can come everywhere with me, because right when she's old enough I'll bring her everywhere.
Despite the haters who criticized Jenner for getting pregnant at 20, it's clear that she has this whole mom thing under control — with the cutest and chicest baby gear, of course.