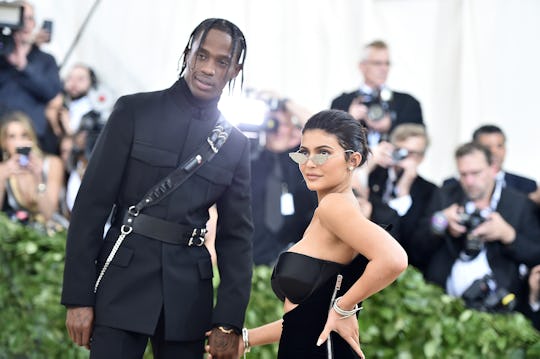 Theo Wargo/Getty Images Entertainment/Getty Images
Kylie Jenner's 4-Month-Old Daughter Stormi Is Getting SO Big — PHOTO
If you can believe it, it's actually been just over four months since the one and only beauty mogul and reality television star extraordinaire gave birth to her first child. And on Sunday, Kylie Jenner shared a new photo with Stormi and it shows just how much her baby girl has grown in that short amount of time. Doesn't it seem like it was just yesterday when little Stormi Webster was still just a rumor? Time really does fly when you have an adorable baby who just keeps on growing, right?
Little Stormi is now a 4-month-old bundle of joy and it's clear that her mom and dad are totally in love with her. Taking to Instagram on Sunday, the 20-year-old new mom posted a sweet photo of herself holding little Stormi in her arms, wishing two of her nieces, North West and Penelope Disick, a happy birthday. And even though Jenner's post is about her sisters' children, it's Stormi who totally stole the spotlight.
And really, isn't that what kids are best at? Ever since Jenner's pregnancy was first reported back in September 2017, all eyes have been on the, now, new mom. Now, all eyes are on her little baby girl. Of course, Jenner hasn't posted too many pictures of her daughter, but what she has posted proves that little Stormi is just as cute and sweet as can be.
Jenner hasn't exactly shared an up-close photo of little Stormi on her Instagram feed recently. Really, most photos of Stormi have been like Jenner's most recent: facing away from the camera and being held by mom. But Jenner has posted a few Instagram Stories of little Stormi, but those go away after 24 hours. Clearly the new mom is looking to maintain some sense of privacy for her daughter, which is totally admirable. After all, Jenner grew up in the spotlight and she probably wants to enjoy some privacy with her daughter while she can.
While Jenner isn't posting photo updates daily, fans are so happy to get a glimpse of little Stormi when she does share a new pic. "So so so blessed to see this bundle of joy," one user commented on Jenner's new post. Another simply added, "She [sic] getting big." And she seriously is.
Stormi may only be 4 months old, but she looks like she's grown to be twice her size since she was born. And that's probably not too far off from the truth. As Parents magazine reported, "Babies usually gain 1 1/2 to 2 pounds and grow 1 to 1 1/2 inches each month." So really, Stormi could very well have gained six (or more) pounds and grown four (or more) inches over the past few months. So while it may seem like she's gotten bigger overnight, it's clear that she's definitely one healthy baby girl.
Sunday's photo was a sweet surprise in her fans' newsfeed; it's been quite some time since the new mom posted a photo to her Instagram page of herself with Stormi, so fans are totally on board with any and all Stormi pictures. One fan even wrote, "We need to see more of Stormi plz," on Jenner's photo, and another added, "this is everything I've ever waited for."
Hopefully, Jenner will share more photos of Stormi in the future when she feels like it. Just a few days after Jenner gave birth, a source told Us Weekly that the new mom was really wanting to lay low after having Stormi. "She is extremely protective and she is very focused on trying to keep motherhood private for right now," she source told Us Weekly.
Not only does Jenner's latest photo prove just how much Stormi has grown, but it also shows how much Jenner loves being a mom to her baby girl.