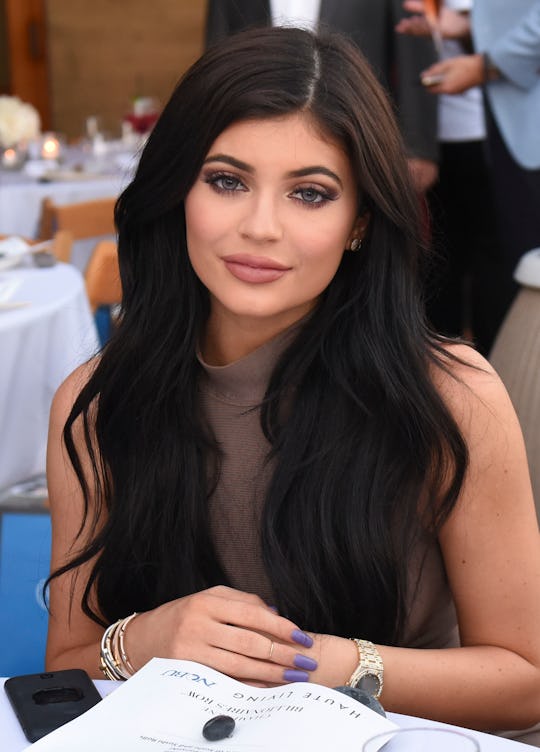 Vivien Killilea/Getty Images Entertainment/Getty Images
Kylie Jenner Shared Some Adorable New Photos With Baby Stormi In Honor Of Her 21st Birthday
Try to think about how you celebrated your 21st birthday. I'm going to go out on a limb here and assume that there was alcohol and shenanigans involved. Maybe some talk of what the future might bring for you, career and baby wise. No surprise, but things looked a little different for Kylie Jenner. I mean, she's already got that whole career thing well settled. And a pretty adorable baby to celebrate becoming an official adult as well. And ahead of her own 21st birthday, Kylie Jenner shared some new photos with baby Stormi to celebrate the exciting milestone. Of course, they're utterly adorable and a reminder of everything the youngest member of the Kardashian/Jenner clan has already accomplished.
The Lip Kit mogul is in the midst of celebrating turning 21, and it looks like she's going to keep the celebrations going for the foreseeable future (at least on social media, that is). Technically her birthday isn't until Friday, Aug. 10, but why let a little thing like the actual date get in the way of a little fun on social media?
The Life Of Kylie star has been sharing pictures all week, some of which even included a few Kylie clones in the mix. But the most beautiful pictures were shared on Thursday; a couple snaps of the new mom with her little girl, Stormi Webster.
Kylie captioned this Instagram photo:
bringing in my birthday tonight with my most special gift. What was life before you, Stormi. I love you my little angel.
As we all remember, Kylie welcomed baby Stormi on Feb. 1 amid a shroud of semi-secrecy. Despite hundreds of media reports that she was expecting her first child with boyfriend, rapper Travis Scott, the social media influencer went completely silent and all but disappeared for months to enjoy her pregnancy in peace. Since giving birth to Stormi, Kylie has been back on social media and sporadically sharing pictures of the adorable 6-month-old. Which we're all obviously very happy about because this means we get to see Stormi and those amazing little cheeks of hers.
It's especially exciting to see pictures of Stormi these days after Kylie (justifiably) decided not to share pics of her daughter's face for some time, reportedly because of negative feedback on social media. In June, some trolls set about questioning Stormi's parentage, and a source told People at the time that the negativity was too much for the new mom. "Kylie is shocked and doesn't want her daughter's pictures to be a part of something negative. She might reconsider in the future, but for now, she won't post any more photos of Stormi's face," the source reportedly told People.
So guys, let's all just say nice things and not ruin this again, OK?
These days, Kylie Jenner is celebrating her birthday in the most Kylie Jenner way possible; photo shoots with clones and a new Lip Kit Collection at Kylie Cosmetics.
The collection launched on Aug. 6, and as Kylie noted on Instagram, she tends to celebrate her birthday by selling cool makeup to everyone:
I can't believe I'm about to 21. It's definitely the most personal collection that I've done. I hope you guys love it. My birthday collections are super special to me, because the first collection I ever did was for my 19th birthday, so this is going to be my third annual birthday collection. My birthdays are kind of what set off collections for me.
This year, however, she has a new reason to celebrate: Stormi. The youngest member of the Kardashian/Jenner family has spent almost half of her life in the spotlight, and I get the sense that she is excited to have her own little person to hang out with these days. Someone who doesn't care that she's Kylie Jenner, one of the most famous people on the planet. She just cares that she's her mom.