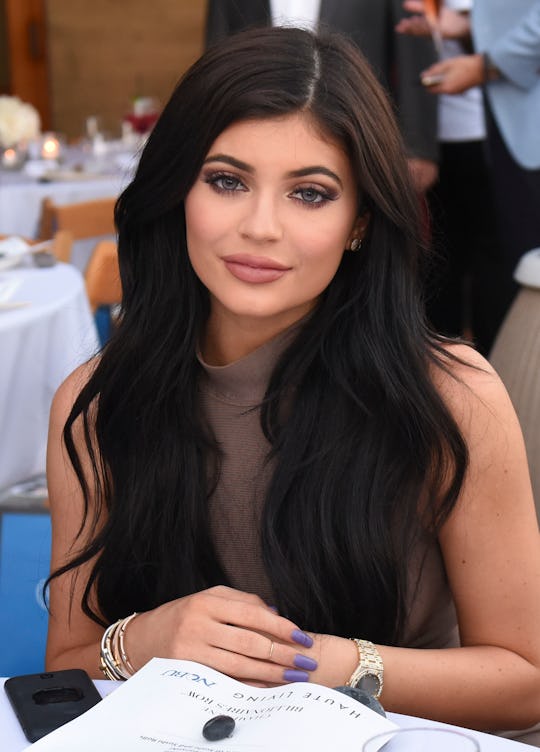 Vivien Killilea/Getty Images Entertainment/Getty Images
Kylie Jenner's Newest Photo Of Baby Stormi Sleeping Will Actually Melt Your Heart
It's hard to believe that it was only two months ago that the world was still in complete ignorance as to whether a certain beauty mogul was actually pregnant. But now, Kylie Jenner is almost like an open book when it comes to her sweet updates about her daughter. And Kylie Jenner's latest photo of baby Stormi sleeping in the cutest pair of pajamas will actually melt your heart.
Even though Jenner's pregnancy was announced back in September of last year, the reality star never actually confirmed the news until after she'd given birth. It was in February, days after she welcomed her daughter, that the 20-year-old finally let the world in on her little secret. Ever since then, Jenner has been posting pretty regular updates about her new life as a mom, including some seriously dreamy photos of baby Stormi.
Her latest photo update on Wednesday evening is totally adorable, of course. Taking to Snapchat (her favorite medium these days, it seems), Jenner shared a super sweet photo of baby Stormi taking a snooze in a perfectly chic pink baby onesie with a hood. While there was no caption — although she added a glamorous filter — the photo is still a great little update into how Jenner is handling life as a mom with her newborn.
Before she posted her photo of Stormi on Wednesday, Jenner was also seen lounging around with friends and family, so she's definitely getting in some much needed R&R and any new mom can appreciate that. After all, since giving birth to Stormi, Jenner has had a lot going on.
On top of, ya know, being a mom, Jenner has also launched a new collection of her makeup line, Kylie Cosmetics, adorably dedicated to her daughter. Obviously, she's been pretty busy, but that hasn't stopped her from taking the time to share sweet updates with her fans about life with Stormi.
As fans may have noticed, most of Jenner's Stormi pics have been shared on Snapchat. While this might not seem all that interesting for most people, Jenner is not most people. On top of being a reality television star, beauty mogul, and author (yes, she's an author), Jenner is also a total influencer. On Feb. 21, 2018, Jenner took to Twitter to express her opinion about the new Snapchat update, writing, "sooo does anyone else not open Snapchat anymore? Or is it just me... ugh this is so sad." After that one tweet, the world was changed.
As Bloomberg reported, "Shares of the Snapchat parent company sank 6.1 percent on Thursday, wiping out $1.3 billion in market value," following Jenner's tweet.
Really, though, Jenner's fans are likely following her on multiple social media platforms to ensure they get the maximum amount of Stormi content and updates. After all, Jenner was very quiet and kept a low-key profile before giving birth, so any and all updates are more than welcome — especially when they feature her newborn.
So now that Jenner is back to keeping her fans posted about her daily life, the world feels a little more balanced. Not only has Jenner been using Snapchat regularly, but she's also posted some seriously sweet photos to her Instagram, including one with Stormi being held by Jenner's own grandmother, Mary Jo.
Jenner's newest photo of Stormi is especially lovely because she seems so calm and relaxed. Life can get a bit hectic once you're a mom, so Jenner being able to have a chill day with her baby girl is so important and it's so great she shares these adorable moments with fans.
Check out Romper's new video series, Bearing The Motherload, where disagreeing parents from different sides of an issue sit down with a mediator and talk about how to support (and not judge) each other's parenting perspectives. New episodes air Mondays on Facebook.