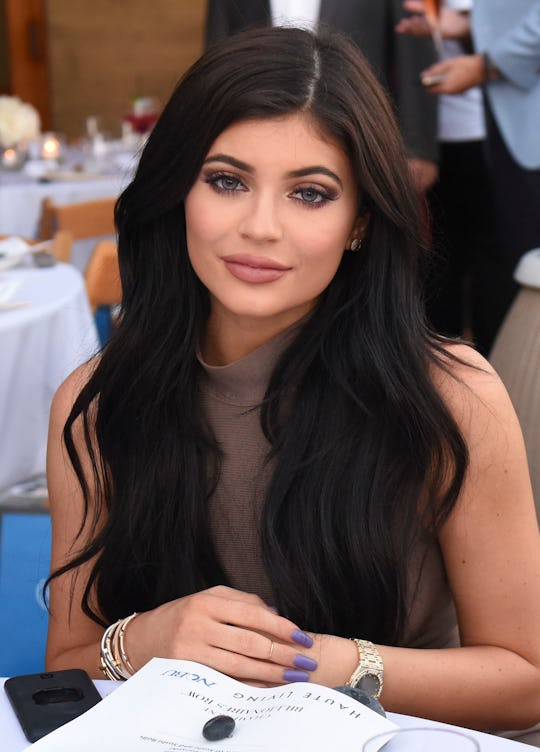 Vivien Killilea/Getty Images Entertainment/Getty Images
Kylie Jenner Took Stormi To Her First Pumpkin Patch & Yup, The Photos Are As Cute As You Think
Now that Kylie Jenner is a mom, she is experiencing a whole bunch of firsts with her daughter, Stormi. Every holiday and milestone is a new and exciting experience for both of them. And most recently, Kylie Jenner shared photos from Stormi's first pumpkin patch trip and oh my goodness, they are so festive and so cute.
After Jenner and boyfriend, Travis Scott, welcomed baby Stormi together this past February, the couple appears to be so happy as a family of three. They've traveled together, celebrated birthdays together, and will soon celebrate milestones together (in fact, Scott recently revealed that Stormi is going to be "walking soon."). Most importantly, though, within the next few months, they're going to be celebrating Stormi's first holidays together. And knowing how Jenner loves to celebrate (I mean, she rented out a theme park for Scott's birthday), she won't hold back when it comes to Stormi's first Halloween, Thanksgiving, and Christmas.
So far, Stormi's first fall and Halloween season has been celebrated just like how you might with your own family — at a pumpkin patch. The family of three was spotted at Underwood Family Farms on Monday, according to TMZ, where they went through the corn maze and picked out a pumpkin for little Stormi.
In the photos from this day, shared on Jenner's Instagram on Wednesday, Stormi looks so happy to spend time with her mom and dad, feed some baby goats, and hang out with some pumpkins.
"First pumpkin patch," Jenner captioned the sweet photo of Stormi sitting in the middle of pumpkins.
And, as you'd expect, people can't get enough of their family outing, taking to the comments of the posts to fawn over the super cute moment.
"OMG my heart," one person commented.
"I'm dying at how cute this is," another stated.
"Can't wait for the Christmas holidays," another user added. "I bet you're gonna take so many cute pictures with Stormi!!"
Although Stormi's first Christmas is definitely going to be amazing, fans should get excited about Halloween, first. In September, Jenner asked fans for some help with their Halloween costumes because she was "stuck" for ideas, according to Life & Style. And fans delivered with plenty of ideas.
Because of this tweet, it's pretty much guaranteed that Jenner and Stormi will be wearing matching costumes this Halloween. But, fans will just have to wait one week until Halloween to see what idea stuck with Jenner. In the meantime, you can get your cute fall fix with these super adorable photos of Stormi at the pumpkin patch with her mom and dad.
It's awesome to see Jenner having so much fun at the pumpkin patch with her family this year. Last year in 2017, Jenner was spending her Halloween just a bit differently. At the time, people were speculating if Jenner was pregnant (she had yet to confirm or deny the news), according to Entertainment Tonight. And although she dressed up as an angel for Halloween, her fans only saw what she looked like from the shoulders up, as she was seemingly trying to hide her pregnancy and couldn't risk having people get a glimpse of her bump.
But now that Jenner has an angel of her own (ahem, Stormi) and doesn't have a huge secret (like a pregnancy) to hide, fans can look forward to spending the holidays with Jenner and her new family this year.
So far, for Jenner and Scott, it looks like this holiday season has gotten off to a pretty nice start.