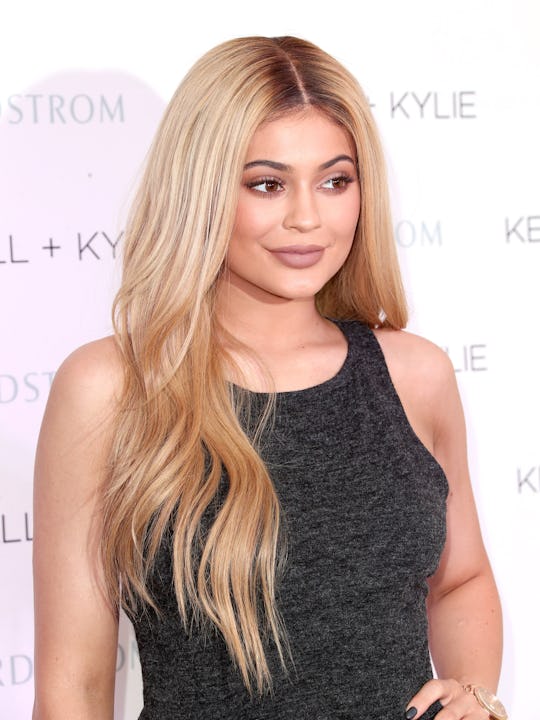 Frederick M. Brown/Getty Images Entertainment/Getty Images
Kylie Jenner Just Shared The *Cutest* Photos Of Baby Stormi On A Walk With "Mommy & Daddy"
I have a good feeling that Kylie Jenner is truly loving being a mom. She and Travis Scott have been sharing the most adorable, most loving pictures of their little girl since she was born on Feb. 1. And the hits just keep on coming. On Thursday, Kylie Jenner shared photos of a "sleeping Stormi" and they are so sweet I think you would have to have one cold, cold heart not to fall in love with her. Especially those cheeks of hers and that mildly confused expression on her face. A confused baby is a hilariously cute baby, and little Stormi Webster has her trademark puzzled expression down pat.
Jenner and her boyfriend, Travis Scott (whose real name is Jacques Webster and now you understand Stormi's last name) were apparently out for a little walk on Thursday night with their baby when the Lip Kit mogul thought she would snap a few pictures for her fans. Which, of course, fans really appreciated ever since having to suffer through months of radio silence from Jenner during her top secret but not-that-secret pregnancy. Jenner shared two pictures of 9-week-old Stormi, one of which featured that puzzled look I love so well. She captioned the photo "walk w mommy & daddy."
In the next photo, it looks like all of that fresh air and soothing rocking motion of her stroller are just too much for the baby; she looked to be on her way to sleep.
It's really difficult to believe that it's only been nine weeks since Stormi's birth, which ended months of rabid social media speculation about the possibility of Jenner's pregnancy as the entire Kardashian/Jenner family remained obstinately tight-lipped. After that long dry spell without Jenner, she blessed her fans with an 11-minute long mini movie dedicated "To Our Daughter," which she shared on her Instagram account as well as on YouTube. The video documented her pregnancy and offered an intimate look at what her private pregnancy journey was like along the way. It was viewed more than 64 million times on YouTube and racked up 86 million views on Instagram.
Jenner has been keeping a considerably lower profile since becoming a new mom, but she pops her head out on social media every once in a while to prove that she continues to wield tremendous influence. The former reigning Queen of Snapchat tweeted her seeming displeasure with the social media sharing platform on Feb. 21, writing "sooo does anyone else not open Snapchat anymore? Or is it just me... ugh this is so sad."
The next day, shares in Snap Inc., Snapchat's parent company, dropped a considerable amount, according to CNN. It should be noted that Snapchat's recent update was being widely criticized by users but still... Jenner's influence in one tweet was felt. Snapchat debacle aside, these days Jenner seems to be focused on one little person alone; Stormi.
And she's not the only parent to be wrapped around little Stormi's finger; Travis Scott has been heavily featured on Jenner's Snapchat cuddling Stormi and generally looking like a happy guy.
He's also been sharing pictures of his "little rager" along the way on his own social media accounts, which means fans are getting double doses of Stormi Webster. What could be better than that?
Kylie Jenner might be one of the most famous women in the world and a member of one of the most famous families in the world, but here is what I see when she shares pictures of her little girl sleeping in a stroller; she's just a happy mom. Who wants people to think her baby is cute, like most other moms out there.
Mission accomplished.
Check out Romper's new video series, Bearing The Motherload, where disagreeing parents from different sides of an issue sit down with a mediator and talk about how to support (and not judge) each other's parenting perspectives. New episodes air Mondays on Facebook.