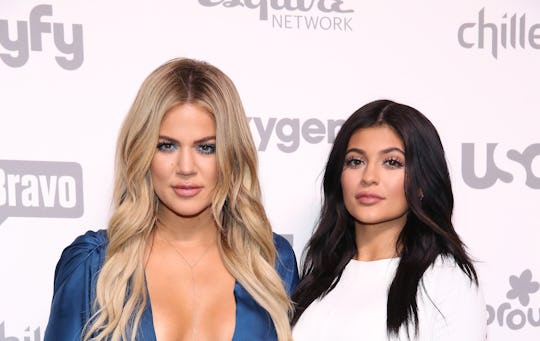 Robin Marchant/Getty Images Entertainment/Getty Images
Fans Are Anxiously Awaiting Kylie Jenner's Reaction To Khloé Giving Birth
Since the rumor mill first started grinding back in September, fans have been eagerly awaiting more tidbits about the most famous pregnant sisters in America. The public wasn't invited along for that leg of their journey, but at long last, both babies are finally here, and people are dying to see Kylie Jenner's reaction to Khloe Kardashian giving birth. Jenner kept her pregnancy under wraps until days after she'd already given birth, so fans were deprived of seeing the pair simultaneously pregnant, at least in real time. However, through the magic of time travel — and by that I mean reality TV that was taped months ago — the sisters can now be seen comparing "bumps" on the current season of Keeping Up With the Kardashians.
Even still, there's a lot of sisterly bonding that fans weren't privy to. The season started airing before Jenner announced her pregnancy, so her stomach was hidden for more than a dozen episodes. Despite the fact that Jenner was more than two months further along than Kardashian was, the eldest sister announced hers first, telling her younger sister via video call. Fans were disappointed in that reaction, which makes this one such a big deal. TMZ reported that Kardashian's daughter was born early Thursday morning, and several hours later, Jenner finally tweeted a picture about her new bundle...
I'm so sorry to disappoint you again. Really. But remember, Jenner just had her own baby 10 weeks ago; she's back at home in California, and her sister gave birth in Cleveland. However, TMZ reported that mom Kris Jenner, sisters Kim and Kourtney Kardashian, and Khloé's best friend, Malika Haqq, were all by her side for the delivery, as was the baby's father, Cleveland Cavaliers player Tristan Thompson. Entertainment Tonight reported that Kris flew out from Los Angeles on Wednesday, with the others arriving later.
The birth comes at a tumultuous time for Kardashian and Thompson; the couple has been rocked by scandal this week. On Tuesday, the Daily Mail published a video that appears to show Thompson kissing another woman at PH-D Lounge, a rooftop bar in Manhattan, on Saturday night. Thompson was in New York for a Knicks game. Soon afterward, TMZ published a video that allegedly shows Thompson and the same woman arriving at the Four Seasons hotel together. Hours later, that site published yet another video, claiming it shows Thompson kissing and groping with two (or possibly three) women at a hookah lounge near Washington, D.C. last October, when Kardashian was three months along. Thompson's and Kardashian's reps didn't immediately respond to Romper's request for comment.
And then! As all this drama was unfolding Wednesday morning, TMZ, the site that has little birds everywhere, reported that Kardashian was having "early contractions." The report also claims that she wasn't due until the end of the month, and muses, "although there's no way to know, it may not be a coincidence it happened just hours after videos surfaced of Tristan hooking up with other women."
If it's true that Kardashian allowed Thompson to be present at their daughter's birth, she's a bigger person than I am. But it stands to reason that she would; after all, she reportedly paid for him to fly cross-country to attend the delivery of his first child, Prince Oliver, according to Life & Style. The pair had already been dating for at least a couple of months (and maybe longer) when Thompson's ex, Jordan Craig, gave birth. All this is to say, Kardashian's had a hell of a week. She's got a few members of her tribe supporting her, but nobody understands postpartum like someone who's still in the thick of it, and hers is undoubtedly going to be rougher than most, even if the rumors are just that. Come on, Kylie, put the baby down and send your sister a tweet already, so your fans can finally put an end to the most stressful chapter of their lives.