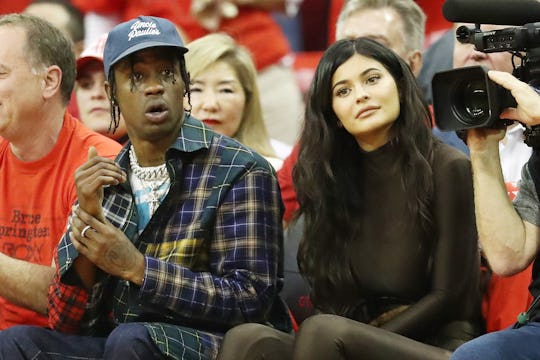 Ronald Martinez/Getty Images Entertainment/Getty Images
Kylie Jenner Celebrates Travis Scott's Music Festival With Pics Of Him & Stormi
Ever since she announced the birth of her daughter Stormi back in February, Kylie Jenner has been on the receiving end of criticism and gossip from fans regarding her relationship with Travis Scott. But despite the rumors, Jenner has used social media on multiple occasions to make it clear that the couple is as strong as ever. And Kylie Jenner's recent Instagram post about Travis Scott — and baby Stormi — proves just that.
This weekend marked the inaugural performance of the Astroworld Festival, a new music festival that Scott created, according to Pitchfork. He performed a concert as part of the festival in Houston, Texas on Saturday night, which Jenner attended. She celebrated the occasion by posting four black-and-white photos of Scott holding and kissing their smiley, giggly daughter on Instagram. "Only the people around you really know how hard you work," Jenner captioned the carousel of pictures. "I love to watch you make all your dreams come true. Your first festival. We're so proud of you. We love you."
Scott saw the sweet post, and he left a pretty cute comment on it. "I love u wifey," he wrote. Hold up, did he just say wifey? (Don't worry, I'll dive in on that in just a sec.)
Jenner also made it clear that she attended the concert by posting a few photos and videos to her Instagram story. In one clip, Scott gave his bae and their daughter a shoutout from the stage. "My beautiful wife, she came out," he said in the video, which Jenner topped off with an emoji of a couple kissing. "And my beautiful daughter, she's here too. I love you all so much," he added. Hold up, did he just say wife again?
Many fans noticed Scott's use of the word "wife," and they promptly turned to Twitter to theorize.
However, other fans casually pointed out that "wife" is actually Scott's nickname for Jenner. OK, but Travis, that is confusing!
Getting married seems like something a KarJenner sister would want to share with the world (and Keeping Up with the Kardashians), but these days, anything goes when it comes to Kylie Jenner. She kept her entire pregnancy under wraps, only announcing it three days after she delivered Stormi in February. So even though many fans have asserted that Scott calls Jenner "wife" as a nickname, you really never know with Jenner anymore!
The fact that Scott has started his own music festival holds significance for the couple, because they actually first formally met at a music festival — and then they got to know each other on his tour. As Jenner told GQ in an interview this summer, they first caught each other's eye at Coachella back in April 2017. "Coachella was one of the stops on his tour," Jenner told GQ in July. "So he said, 'I'm going back on tour—what do we want to do about this?' Because we obviously liked each other ... And I was like, 'I guess I'm going with you.'" And the rest was history!