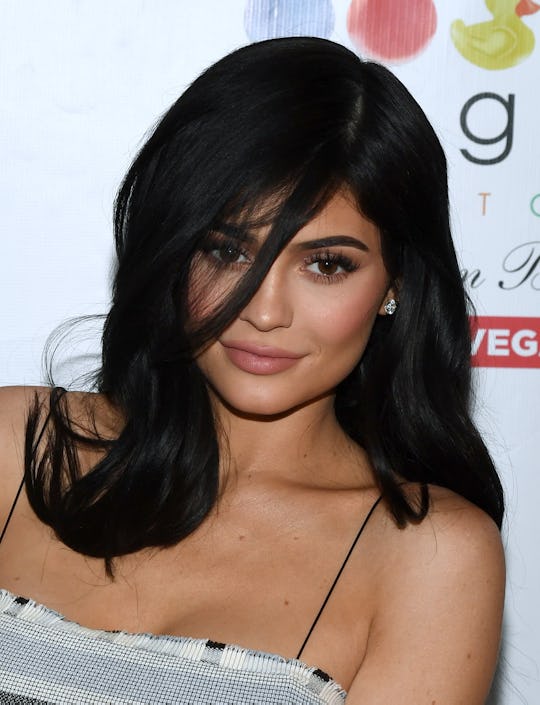 Ethan Miller/Getty Images Entertainment/Getty Images
Moms Are Relating In A Major Way To Kylie Jenner's Tweet About Stormi
Keeping Up With the Kardashians star Kylie Jenner is apparently feeling all the new mom feels, and her most recent social media post is something all parents can totally understand. Kylie Jenner's tweet about Stormi growing up too fast has moms everywhere saying, "Same, Kylie. Same."
Kylie and her boyfriend, Travis Scott, welcomed their first baby on February 1. Her name was later revealed to be Stormi Webster, according to TMZ (her father's legal name is actually Jacques Webster). Kylie kept her pregnancy private for months, but finally made the big announcement about Stormi's birth on social media. So is it any wonder that any of the updates fans have gotten about Stormi or Kylie's life with her daughter have come from social media as well?
In a recent example of just such an update, on Thursday, Kylie tweeted about how Stormi will be 6 months old very soon. She was clearly feeling a little emotional about the milestone, but a lot of mamas jumped in and said they understand her feelings completely, because they've been there too.
Kylie tweeted Thursday night, "Stormi will be 6 months in 6 days.. how did this happen? Moms, do your babies grow as fast as mine?" And she got a whole lot of responses to her question. "It all happens in a flash," one person replied. Another response read, "enjoy all the time you can now, they don't stay small for long."
In March, Kylie's mom, Kris Jenner, said of Kylie, "I think she was just born to have kids," according to Us Weekly. But just because Kylie was excited to be a mom, and her family seems to think she's a total natural at it, that doesn't mean she isn't allowed to struggle with some aspects of it — like dealing with the heartache of watching her little girl grow up quickly.
Kylie is definitely not alone in her feelings, though. And the Twitter responses really made that clear.
"Girl it breaks my heart," Twitter user @stormyrules replied to Kylie. She included a photo of herself with her kid and added, "My little 'preemie' baby will be 18 in October. Cherish every minute. I don't want to let him go...but it's about that time (me and CJ at @lorde concert-his First concert and he wanted to hang with his mom ❤️❤️)."
"one day I was worrying about the right daycare and now it's time for college," @iculookinatme2 told Kylie, "Enjoy your baby 💝😘"
And @KourtDailyCom, who is clearly a big Kardashian/Jenner fan, replied to Kylie's tweet, "Yes! unbelievably fast! Mine is almost 8 months Sometimes I already miss my 'little' baby but now she is crawling and discovering so much stuff, Im so proud when I see her do things."
It seems that Kylie really sparked a discussion among moms with her tweet about her baby girl. In a lot of ways, motherhood is really unique, but there are also some really universal experiences as part of it, and being in awe of your child growing up is one of those experiences for a lot of people.
It's probably not just Twitter followers who are likely telling Kylie that her feelings about Stormi growing up are totally normal. Khloé Kardashian's daughter, True Thompson, and Kim Kardashian West's daughter, Chicago, are very close in age to Stormi, and Kylie's sisters are probably feeling a lot of the same emotions she is.
Plus, Kim has been through this before with her other two children, North and Saint. Big sister Kourney Kardashian has three children as well — Mason, Penelope, and Reign. So if Kylie needs some reassurances that what she's feeling is completely typical, and that it really does seem like babies grow up super fast, she can just turn to her own family members.
As Stormi grows even more, Kylie will probably continue to share tidbits about their life together with her social media fans and followers. And that's exactly what those fans like to see and, often, what they can very easily relate to.