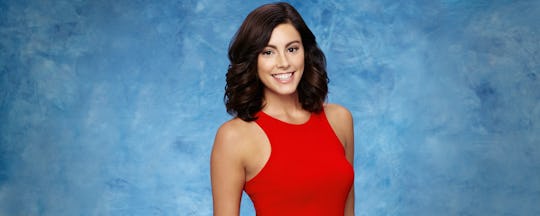 ABC
Lace Kissed Ben On 'The Bachelor' Premiere, Showing Everyone That She Knows How To Make An Entrance
It's the night we've all been waiting for: On Monday night's premiere of The Bachelor, Ben Higgins was introduced to all 28 bachelorettes vying for his affection. After 20 seasons, we've seen plenty of first meetings, but in the ever-important attempt to leave a lasting impression, one bachelorette made a bold move: Lace Morris kissed Ben during her entrance.
The 25-year-old real estate agent definitely seemed to be intent on making a memorable first impression, but is it the kind of introduction Ben was looking for? Ben has been up front in saying that he is for looking for a wife despite his fear of rejection, and he's got his parents' 32-year-long marriage as a great example to follow (seriously, how cute are Ben's parents?). And you can't help but root for him to do it — even though The Bachelor is fun to watch regardless of the outcome, it's always nice to see couples actually fall in love and get engaged at the end (especially when it actually leads to marriage).
Unfortunately for Lace, her plan didn't exactly seem to work out the way she intended — Ben didn't seem particularly enthusiastic about it, and later on, when she found herself alone with Ben again and asked him for a do-over, he straight up rebuffed her, explaining that his goal was to get to know the girls first and "take time to talk." Lace naturally looked pretty bummed with his answer, but you gotta give Ben a little credit — he seems to be taking his role seriously, at least on night #1.
But the night wasn't a total disappointment. Though Lace did not get the first impression rose (that honor went to former news anchor Olivia, who Ben respected for making the leap from one type of TV to another), she did make it to next week — snagging the final rose, much to the surprise (and dismay) of the other bachelorettes.
Will Lace turn out to be the one for Ben? It definitely doesn't seem like love at first sight. But he obviously liked her enough to keep her around, and it will be interesting to see how their relationship progresses in the next episode.
Image: ABC