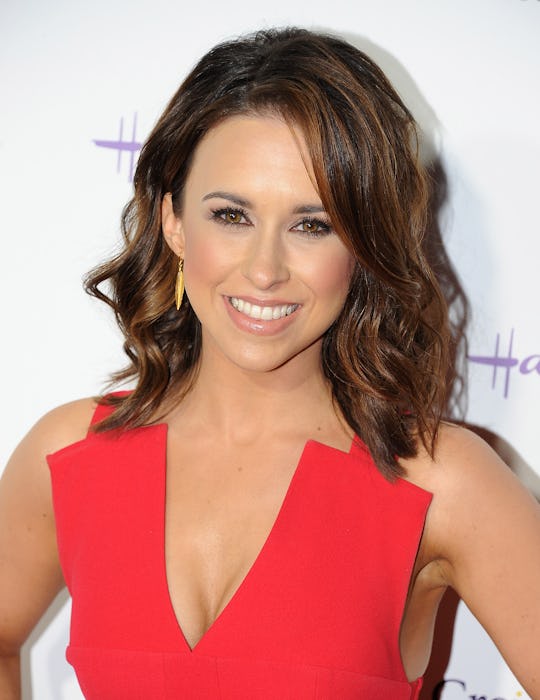 Angela Weiss/Getty Images Entertainment/Getty Images
Lacey Chabert Designed Her Baby Nursery, & It's Pretty Fetch
In her home, this Mean Girls' star is wearing pink on more than just Wednesdays. Gretchen Wieners may not have been able to make fetch happen, but the actress who played her, Lacey Chabert, designed a baby nursery for her soon-to-be daughter and it is pretty amazing.
Chabert, 33, married her husband Dave Nehdar in 2011 in a super-secret ceremony — she didn't even tell the press who she'd married when she announced her Mrs. status on Twitter after the event. She'd been seen canoodling with Nehdar on several occasions, though, so the media figured it out pretty quickly.
Chabert announced her pregnancy back in February with the help of her beloved chihuahua, Kitty. She tweeted a photo of her pup wearing a shirt that said, "My mom is having a baby and all I got was this silly shirt!" Chabert later announced the baby's gender — a girl! — and hopefully Kitty's a little more excited now?
Back in July, she shared some photos from her adorable baby shower, which was attended by celeb-mom pals Beverly Mitchell, Ali Fedotowsky, and Haylie Duff. "When I look around at my group of friends," she told People, "I realize how blessed I am to have such wonderful people in my life to support me as I become a mother. My daughter is fortunate to have these individuals influence her life as well."
Chabert is now blogging about her countdown to motherhood for People magazine, where she shared some photos of her totally grool nursery and revealed her thoughts about becoming a mom for the first time — much of which is relatable to any first-time parent trying to handle things like nesting:
One of my favorite parts of nesting though was creating the room in which our baby will grow up. This room in our home had previously been intended as a guest room, but had turned into a storage unit of sorts filled with the random things we didn't know where else to put. If I'm being honest, it had nearly become an episode of the show Hoarders, but that could be another blog entirely. I get very attached to things and like to save everything.
Chabert admits that she had plenty of help with the nursery's design — mostly because, left to her own devices, she said the room would have just been "pink on pink on pink" (a tribute to Mean Girls, perhaps?):
I swear I would have painted the floor and ceiling itself pink with accents of, well, pink! Because of my lack of design ability, I was thrilled to have the help of a very talented interior designer,Vanessa Antonelli.
She also wrote about some of the special little details added to her daughter's room that are much less about aesthetic and just come straight from the heart:
We included this pink blanket that my grandmother crocheted for me. She made it years ago in the hopes that I'd one day have a little girl. It's really special to me.
Chabert also had a totally understandable "I just have a lot of feelings" moment and shared some of her worries about what it will be like when her daughter arrives — which are probably familiar to any expectant mom:
What if my water breaks in the middle of a crowded restaurant like it did for my sister? Will my family make it to California in time for her birth? Just how painful will labor be? Will I be a sweaty mess yelling at Dave through contractions? How and when will she end up being born? Will we be good parents?!
If her thoughtful and sweet blogs are any indication, Chabert doesn't have to worry — it seems like she's going to be a really loving mom. And when her daughter is old enough? A movie night with Mean Girls will be a must.