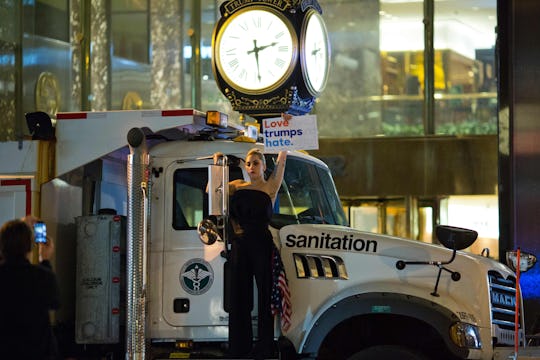 DOMINICK REUTER/AFP/Getty Images
Lady Gaga Protests Donald Trump's Presidency Outside Of Trump Tower
Early Wednesday morning, "Perfect Illusion" singer, Lady Gaga, stood in front of a New York City Trump Tower to protest the United States' new president-elect. Wearing all black, as if mourning the United States, the artist proudly stood on a sanitation truck holding up a "Love trumps hate" sign. To ensure everyone saw her efforts, she used Instagram. "I want to live in a#CountryOfKindness #LoveTrumpsHate He divided us so carelessly. Let's take care now of each other" she captioned her black and white filtered image.
Like Beyoncé, Katy Perry, and other female artists, Gaga was very vocal about her pro-Hillary stance. At a Clinton campaign rally that took place earlier this week, Gaga insisted that Hillary, "has a career in politics that spans decades of experience, education, leadership, and wisdom. She's ready to be president." Gaga continued her affirmations stating that "She kept going and she kept fighting for women's rights. She kept fighting for the care of our children. She kept fighting for those that are in need."
And when questioned about Clinton's opponent, Donald Trump, Gaga claimed: "If we are true, true Americans, we must go from viewing his followers as our adversaries to viewing them as our allies. What does she say? What do we say? We are stronger together. And what I see in this remarkable woman is that she is ready to restore peace in this country. America is not America without its people."
Then Tuesday night, when it became obvious that Trump would win the election, Gaga took to Twitter to voice her thoughts. She tweeted "In a room full of hope, we will be heard. Stand up for kindness, equality, and love. Nothing will stop us. Say a prayer America." The star also changed her Twitter username to #Countryofkindness.
She inspired fans to vote in many ways, one including the video she shared below, with her song, "Come To Mama," playing in the background. "Everybody's gotta love each other. Stop throwing stones at your sisters and brothers" the lyrics read.
Hillary's loss of the election was announced around 2:30 a.m. ET. At that time, Trump acknowledged Clinton's efforts and stated that his opponent was owed a "deep debt of gratitude." While she didn't win, this protest by one of pop's biggest stars shows that Clinton's loss is not something people are taking easily, reminding us now more than ever, it is crucial we fight for what we believe in.