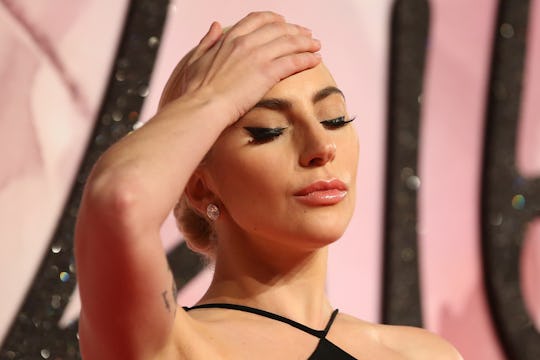 DANIEL LEAL-OLIVAS/AFP/Getty Images
Lady Gaga Reveals PTSD & Shares An Emotional Day With Homeless LGBT Youth
Lady Gaga doesn't just show up for her fans, she lays herself bare for them. And I'm not talking solely about her music. When the singer visited a homeless center for LGBT youths recently, she brought presents. She brought donuts, and clothes. She posed for selfies with every single teen in the place, as well as the staff. And perhaps most importantly, Gaga revealed her own experience with PTSD (post-traumatic stress disorder) as proof that all is not yet lost for those kids who are struggling to find their way in the world.
During a Nov. 25 visit to the Ali Forney Center in Harlem, which was taped for NBC's Today and aired Friday, Lady Gaga spent an emotional day listening and sharing with homeless LGBT youths on behalf of her foundation, Born This Way. The foundation, according to its site, is
... committed to supporting the wellness of young people and empowering them to create a kinder and braver world. We achieve this by shining a light on real people, quality research, and authentic partnerships.
It was launched in 2012 by Gaga and her mother, Cynthia Germanotta. Born This Way's directive is "connecting young people in safe ways and empowering them with the skills and opportunities that will inspire them to create a kinder and braver world."
Lady Gaga's mission to establish human connections to help young people "create a kinder and braver world" comes from a troubled past; She was raped when she was 19-years-old. She waited until 2014, 11 years later, to share the story of her rape in an interview with Howard Stern. Gaga told Stern at the time that she waited to talk about it because she didn't want to be "defined by it":
I'll be damned if somebody's gonna say that every creatively intelligent thing that I ever did is all boiled down to one d--khead [who] did that to me. I'm going to take responsibility for all my pain looking beautiful and all the things that I've made out of my strife. I did that.
Gaga survived the trauma with support from family, friends, and medical professionals. But, as she told the teens at the homeless center, that doesn't mean she got over it. In her interview with Today, she said:
I told the kids today that I suffer from a mental illness. I suffer from PTSD. I've never told that to anyone before, so here we are.
After the initial shock of her visit wore off (it was a surprise to almost everyone at the center, and Gaga was greeted with screams and cheers from the youth), she spoke to the group for a few hours about her own trauma, her struggle with mental illness, and how she copes with stress: meditation.
"Meditation helps me to calm down," she said. "I don't have the same kinds of issues that you have, but I have a mental illness and I struggle with that mental illness every day so I need my mantra to help keep me relaxed."
The Executive Director of the Ali Fornay Center, Carl Siciliano, had nothing but praise for Gaga. He told CNN that around 75 percent of the 60 to 70 youths there had suffered some form of physical or sexual abuse themselves while still at home, and for them to see a celebrity like Gaga support them was remarkable.
"To have somebody so famous, celebrated and valued in our society kind of showed them that they are worth being cared about and worth being loved when they often feel so dramatically invalidated," Siciliano said. "It was very moving and meaningful to them."