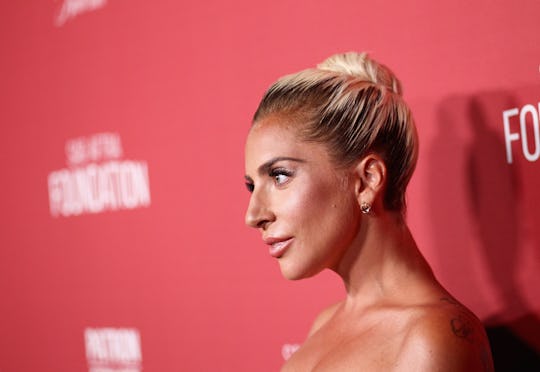 Tommaso Boddi/Getty Images Entertainment/Getty Images
Lady Gaga Saved These Mementos From 'A Star Is Born' To Show Her Future Children
A Star Is Born dominated at the box office, it launched Lady Gaga's career to new heights, it spurred a few pretty amazing memes, and, oh yeah, it made pretty much everyone who saw it sob uncontrollably. The pop star-turned-actress is clearly so grateful to have starred in the film, so it's no surprise that Lady Gaga saved mementos from A Star Is Born — and she hopes to share them with her children one day.
Lady Gaga opened up about the items she took from the film's set in a new cover story for Variety. In A Star Is Born, Bradley Cooper's character Jackson Maine wears a beige button-down shirt in several scenes, and he later gifts the garment to Lady Gaga's character, Ally. Gaga kept the shirt after filming wrapped, and she even wore it in the Variety photo shoot (her idea). "I just wanted to have a piece of him with me," Gaga told Variety.
In addition to the shirt, Gaga also took Ally's songbook and a bottle of Mr. Bubble seen in a bathroom scene during the film. "This is very precious to me. These are heirlooms, or they will be heirlooms one day," she told the magazine. "They are things I will want to show my little girl or little boy and say, 'Here they are. You can touch them.' I want them to have a close, tangible, poetic experience with the film the way I have."
Gaga does not have any children, but they could be on the horizon for the singer. She is currently engaged to Christian Carino, a talent agent at Creative Artists Agency. It's so sweet that the film means so much to her that she is already thinking about how she will share the experience with her future children.
Later in the Variety interview, Gaga also opened up about the impact she hopes A Star Is Born has on kids who feel like outsiders. "I only want to win now," she told Variety (speaking metaphorically as opposed to about the Academy Awards, the outlet noted), "because I want that kid who feels like me, that misfit or outcast that didn't belong, to win. The reward for me is that this movie is a win for them."
And in an August 2018 interview with The Los Angeles Times, Gaga further opened up about the influence she hopes her performance as Ally has on young fans. "To be honest, I think what makes me feel beautiful is when I see happiness in my fans," she told the newspaper. "And at the end of the day, I could be in a million movies and put out a million songs and everyone could say, 'She was so beautiful,' but that's not really what I want. I want them to say, 'I saw that movie and I cried my eyes out and I learned something about myself.'"
It's easy to see how much A Star Is Born means to Lady Gaga, and hopefully the souvenirs she took from the set will help her remember the amazing experience so she can share it with her future children whenever that day may come.