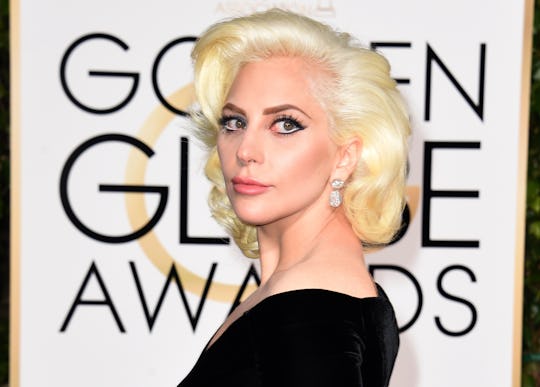 Lady Gaga's Golden Globe Acceptance Speech Was So Dramatic, Because She Was Born That Way
The 2016 Golden Globes was a chance for Lady Gaga to show that she belongs with Hollywood royalty. As any Little Monster will excitedly tell you, Gaga was nominated for her role in American Horror Story: Hotel, and her fans waited with baited breath until it was announced that she won for Best Actress — Mini-Series or TV Movie. This was the first Golden Globe nomination and win for Lady Gaga, who can now add award-winning actress to already staggering list of accomplishments.
Given that this was a first-time nomination and win for Lady Gaga, it's only natural that her speech was full of emotion. (Though her fiancé Taylor Kinney was notably missing from speech. We're sure he'll forgive her.) It was also a tad dramatic, but what else would you expect form the woman behind The Countess.
I feel like Cher in that John Patrick Shanley film Moonstruck right now. This is one of the greatest moments of my life. I have to thank Ryan Murphy. You are just a wonderful human being, and you have believed in me so much and been such a good friend to me.
Thank you to my wonderful cast. I love you guys so much — you're my family forever. I have to thank Matt Bomer. I have to thank Denis O'Hare, and Angela Bassett, Cheyenne Jackson, Finn Wittrock, Chloe Sevigney, Evan Peters. I could go through the entire cast because you're all so talented and because of you I was able to shine, I guess. So thank you for sharing your talent with me. I wanted to be an actress before I wanted to be a singer, but music worked out first. To my family: my mother, my father, my sister Natalie. I love you so much.
I have to thank my team. You guys pick me up every single day. And the things I put my body through and my mind through when I'm working, it makes me like a child — I can't even do things on my own. And you allow that, and you take care of me, and you help me to explore my creativity in ways I never thought I could...I'm truly speechless. I really am truly speechless. Thank you so much.
Lady Gaga's American Horror Story: Hotel character is loosely based on Elizabeth Bathory. A resident of Hungary, Bathory holds the Guinness World Record as the most prolific female serial killer in history. Bathory was charged with the torture and murder of upwards of 650 young women between 1585 and 1610, adding another, realistic layer of terror to Gaga's character. In the FX series, Gaga uses her good looks and special gloves to kill people and drink their blood, fancying herself a vampire even though she, ya know, isn't.
As once might expect, Lady Gaga's Monsters rejoiced in her Golden Globe win, taking to Twitter to congratulate the actress.
Back in December, Gaga responded to her Golden Globe nomination on Twitter, almost unable to contain her excitement:
It's safe to say that she'll be celebrating tonight, along with her Monsters the world over.
Image: Valerie Macon/Getty Images