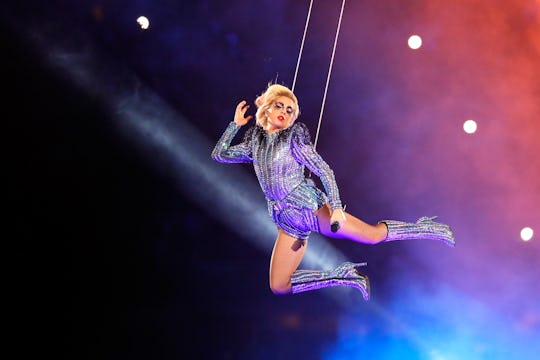 Kevin C. Cox/Getty Images Sport/Getty Images
The Lady Gaga Mic Drop Memes That Prove She Slayed
Did you see Lady Gaga's halftime show from Super Bowl LI? Are you recovering? I have't gotten there just yet, and I'm worried I'm going to forget the best parts. For instance, her exit. Can we talk about her exit? Let's have a look at Lady Gaga's mic drop memes from halftime so we can remember together.
Gaga had some pretty serious expectations sitting on her bedazzled shoulder pads ahead of Super Bowl LI. Not only from her Little Monsters, but from the entire country who wondered if she might go all political. And she did, in her own way. As she promised she would during a press conference in Houston the week before the Super Bowl, Gaga wanted to celebrate the spirit of unity during her halftime performance. Whilst wearing an amazing, sparkling bodysuit, the singer fell from the ceiling to literally drop on to the Houston Astrodome field after singing "This Land Is Your Land." She managed to make a political statement merely with her clear, abiding love for America. Somehow, that managed to be a statement. And that was before her exit. That exit. She walked along a platform, dropped her mic to catch a football midair, and then disappeared. I. Can't. Even.
Did you see that? Do you want a minute to watch it again? I mean, the sheer athleticism of her performance, right? Gaga blessed us all not only by her performance, but she brought back all of her throwback songs that you know you're secretly dancing to whenever you're heading out on the town. "Born This Way," "Poker Face, and "Bad Romance." Then top it all off with the mic drop. It made all of the football and even my ruined chili that was supposed to make me happy 100 percent worth it.
So I'm wondering if her Little Monsters loved it?
It was a solid, powerful, much needed reminder that the very best version of America as we know it is not the one that President Trump is running — it's whatever version created Lady Gaga.
Also she's a good girl who brought her parents to the Super Bowl and said hi to them. Perfection.
Between the fireworks, the subtle outfit changes (I need sparkly underwear in my life, and plan on wearing them everywhere, so fair warning), and the amazing choreography, it actually felt like too much. Too much glitter, too much joy, too much Gaga.
Just kidding. No such thing. If this is what Gaga can do with a brief period of time, can we just talk about getting tickets to her Joanne Tour? Please?