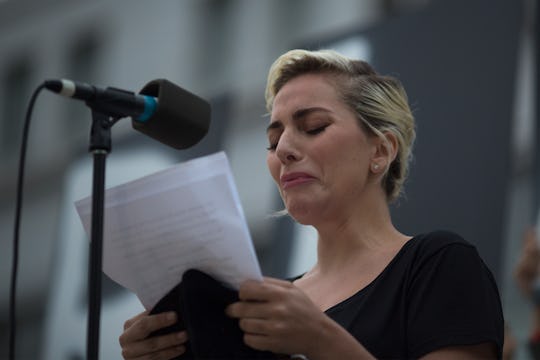 David McNew/Getty Images News/Getty Images
Lady Gaga's Orlando Shooting Tribute Was Truly Moving
As the world mourns the loss of 49 innocent souls and tries to find a way to make any kind of sense of the worst mass shooting in American history, Lady Gaga has somehow found a way to give voice to our pain. The musician was one of thousands who gathered on the steps of City Hall in Los Angeles on Tuesday morning to mourn the victims of the Orlando mass shooting. As someone who has long stood up in support of the LGBT community, Lady Gaga gave a beautiful tribute in honor of the victims of the Orlando shooting that, unsurprisingly, left everyone moved.
Lady Gaga, visibly shaken and moved to tears, offered a message of peace, love, and support to the LGBT community:
We mourn the tragic loss of these innocent, beautiful people. Let's all today pledge an allegiance of love to them and to their families who are suffering so deeply. They are sons and daughters. They were fathers and mothers. They are all our brothers and our sisters. But, tonight I will not allow my anger and outrage over this attack to overshadow our need to honor those who are grieving truly for their lost ones; lost members of the LGBT community.
The country remains in a state of shock since Omar Mateen entered Pulse, a gay nightclub in Orlando, to terrorize a group of innocent people. He killed 49 and injured 53 more before being killed himself in a shootout with police.
Gaga reiterated the importance of remembering the names of the 49 victims, who deserve our love and attention far more than the shooter. She read out all of the victims' names in a voice that shook with emotion.
"I hope you know that myself and so many are your allies. Not only me, but everyone here," she said. "We represent the compassion and the loyalty of millions of people around the world that believe in you. You are not alone, you are not alone."
Lady Gaga, dressed in plain black with eyes full of tears, addressed a crowd of thousands waving rainbow colored flags in honor of the LGBT community.
Gaga was joined by Stuart Milk, the nephew of murdered LGBT civil rights leader Harvey Milk, in front of a black sign with white letters that spelled out simply "Orlando."
At a time when so many people are struggling to find answers, to make sense of such a hateful, senseless attack, Lady Gaga's tribute drove some important truths home. That we are all in this together, that we are here to support each other... and that love really is the only answer.