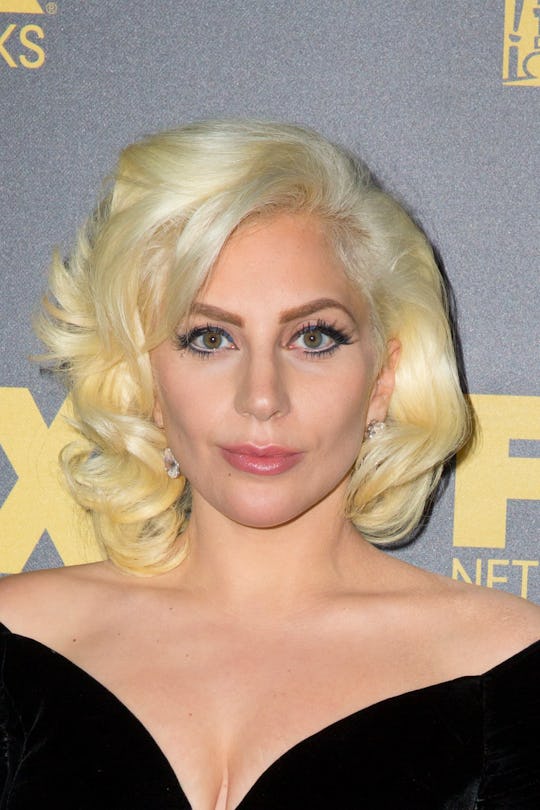 Lady Gaga's Reaction To Oscar Nomination Honors Sexual Assault Victims & Survivors
You go, Gaga! This morning, Lady Gaga was nominated for an Academy Award for Best Song for co-writing "Til It Happens To You" with Diane Warren. Although her immediate, private reaction was probably one that included freaking out, lots of screams, shock, awe, and tons of much-deserved celebrating, Mother Monster used the opportunity to share an important message on social media with her fans.
This is, of course, Lady Gaga's second time in the spotlight this week. Just days ago, she took home the Golden Globe for Best Performance by an Actress in a Limited Series or a Motion Picture Made for Television for her role in American Horror Story. When accepting that award, Lady Gaga seemed taken aback and absolutely "speechless," as she put it, and even forgot to mention her fiancé, Taylor Kinney. So, when the Academy Award nominations were announced this morning and included her weighty song about dealing with sexual trauma, Lady Gaga was prepared with a statement about why the nomination means so much.
"Til It Happens To You" was eligible for the nomination because it's featured in The Hunting Ground, a documentary that explores "rape crimes on U.S. college campuses, their institutional cover-ups, and the devastating toll they take on students and their families." So it was only fitting when Lady Gaga gave a nod to victims and survivors of sex crimes with her Academy Awards nomination reaction:
Perfectly put. It really is remarkable to see a song about rape and sexual assault making such an impact both on the radio and, now, with the Academy. With so much of music doing the opposite by actually promoting rape culture, it's a welcomed change to see Lady Gaga and Diane Warren's song getting the recognition it deserves.
Could this be the year Gaga takes home an EGOT? The actress, singer, and all around amazing woman is absolutely unstoppable right now, and today's nomination only proves her importance to the industry.
Image: Alison Buck/Getty Images