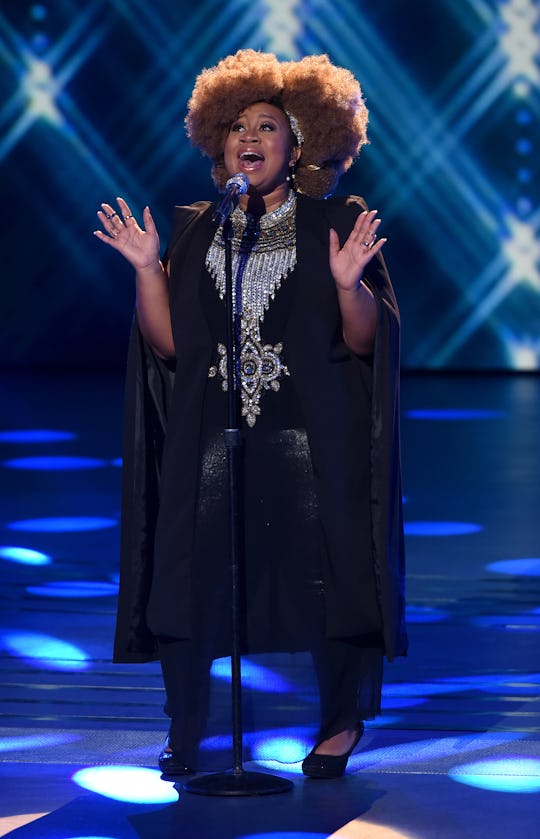 Ray Mickshaw/ FOX
La'Porsha Performs "Halo" On 'American Idol,' & Twitter Was Singing Her Praise
This was a very big week for the remaining contestants on American Idol. The Top 10 dropped down to the Top 8, as there was a double elimination where fans had to say goodbye to two very talented performers. But, before that happened, a fan-favorite took to the stage and wowed the judges, the audience, and Twitter. On American Idol La'Porsha Renae sang "Halo" by Beyonce, and to really sell the metaphor, it was as if angels were singing. Don't believe me? Don't worry, Twitter will back me up.
By now, it's no secret that La'Porsha is a frontrunner in the journey to be the final American Idol. Week after week, she wows audiences and the judges. As Jennifer Lopez put it during the judges comments, La'Porsha is "the one to beat." She's a tough act to follow — I wouldn't want to sing after her... I bet Harry Connick Jr. didn't even want to sing after her. She took "Halo" — a song many of us know to be effortlessly performed by Queen Bey — and made it into her own. We know that La'Porsha can cover songs, but now she's proving she can take a song and make it her own.
Twitter also agreed that La'Porsha slayed the performance.
The song highlighted what La'Porsha has to offer to audiences — an unparalleled talent. She can take a song that has been performed time and time again — originally done by Beyonce, an artist that some might not even take on as a cover — and make it her own.
Because the episode was a double elimination, La'Porsha knew she was safe before performing her number. Even if she wasn't safe, something tells me she was going to be able to give the same killer performance. As Lopez said, La'Porsha is becoming a star in front of our eyes, and I for one can't wait to see her continue to shine.