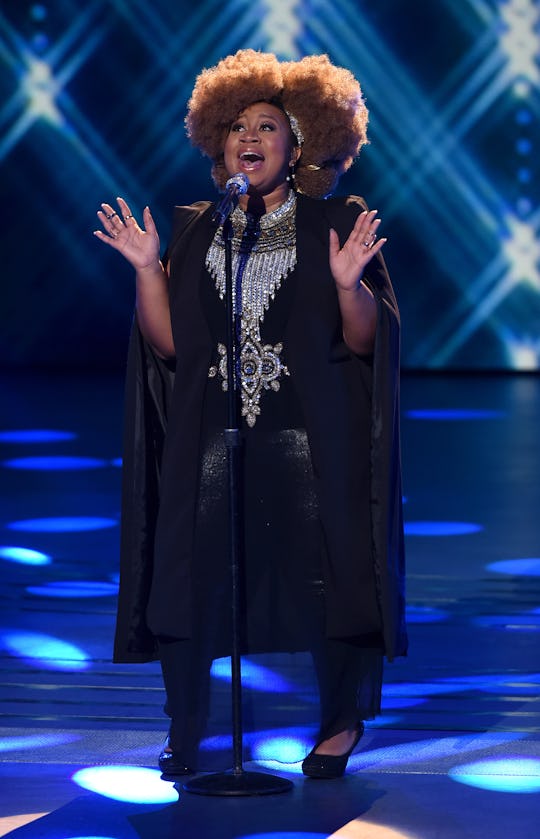 Ray Mickshaw/ABC
La'Porsha Renae Sings "Come Together" On 'American Idol,' & Brings The House Down
I know we still have a few weeks left of American Idol, but I really think we should just call it. Let's give away all the awards, all the titles, all the money and contracts that the winner gets because I think it's clear who the star of the show is. On Thursday, La'Porsha Renae sang "Come Together," by The Beatles and it was not only one of her best songs to date, I'd argue it was one of the best numbers American Idol has had on its stage this season. So, let's just call it now, because this is La'Porsha's show and we're all just watching her slay it.
On Thursday, the Top 6 contestants paired up at the top of the show and sang duets. As is the case for many duets, the songs didn't really do anything for the individual performers. That's why it was so important that the solos of the night allowed the singers to shine. And shine La'Porsha did when she took on The Beatles' classic song with a killer rock flare.
From the top of the song, it was obvious that La'Porsha was going to take this song to another level. Don't get me wrong, the song is a classic and is amazing, but La'Porsha's rock-n-roll take on it was so complimentary towards her vocals. As Jennifer Lopez said, you couldn't help but feel cooler watching La'Porsha sing this song.
Lopez wasn't the only judge to love La'Porsha's performance. Both Keith Urban and Harry Connick Jr. both raved over it, Urban saying that it was a "terrific song" for the singer. Of course, fans also matter in this competition, and La'Porsha has no shortage of those. Fans took to Twitter to rave about her performance, which has just become a trend at this point in the competition.
So, while I love the other contestants, let's call a spade a spade. This is La'Porsha's world, and we're all just living in it.