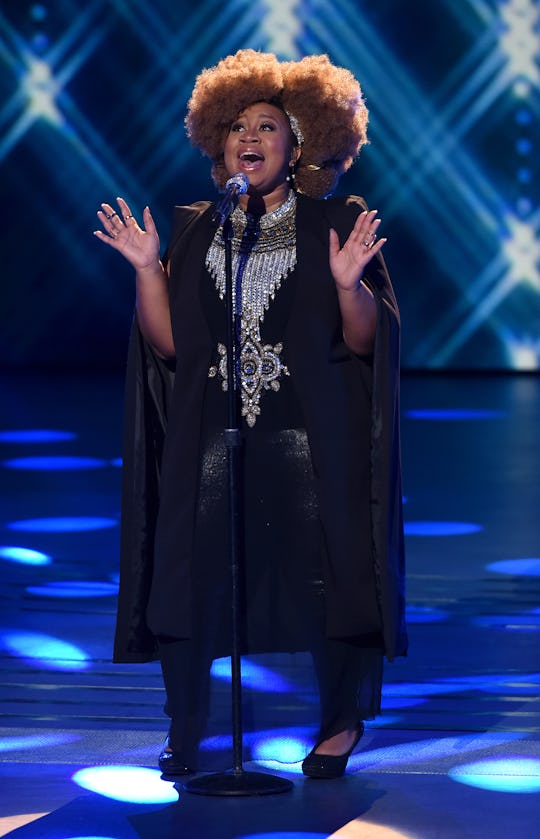 Ray Mickshaw/ FOX
La'Porsha Renae Sings "No More Drama" On 'American Idol,' & Brings Down The House — VIDEO
It happens every week, but it just needs to be said again — La'Porsha Renae is the star of American Idol. Look, I'll give credit where credit is due — the other singers are great — but none of the other contestants come close to having the amount of talent La'Porsha has in her pinky finger. This week, La'Porsha sang "No More Drama" on American Idol, and to say that she brought the house down would be an understatement. The Idol star not only had people cheering for her, but she even got the judges up on their feet. Like I said, she's a star.
On Thursday's live show, La'Porsha showed a more vulnerable side before her second performance of the night. During her time on the show, La'Porsha has opened up about her personal life. She has spoken out about being a single mother and raising her young child. She shared her story about being in a relationship that she claims was abusive. It is clearly not an easy topic to discuss, let alone discuss with all of America, but it was incredibly courageous for La'Porsha to share her story for others to relate to.
After the touching package, La'Porsha effortlessly — seriously, this was a cake walk for her — performed "No More Drama" by Mary J. Blige. The power behind her performance proves that she's a survivor and a fighter, not only on American Idol, but also just in life. The lyrics ring true to her story, "Now you're free from all the pain/ free from all the game/ free from all the stress/ so find your happiness," making this song an even better fit for the singer.
After her performance, the judges were on their feet — and rightfully so. Jennifer Lopez noted that everyone can identify with the song considering many have been through things they need to overcome. She also called La'Porsha's performance "powerful," while Keith Urban called it "inspiring."
Each week, La'Porsha tops herself. I can't wait to see what she has planned for next week, and the week after that, and the week after that. OK, I also can't wait to see what she has planned post-Idol, because let's just say it now, she's going to be huge.