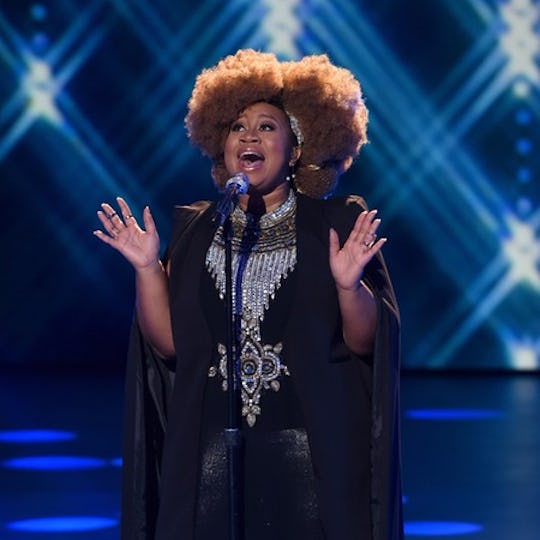 La'Porsha Renae's 'American Idol' Outfits Are As Bold & Powerful As Her Voice
If she's not wearing killer black leather pants and platform boots, she's decked out in a fabulous, Tina Turner-esque fringed dress and sexy kitten heels. If her hair isn't teased out in a massive cloud of curls, it's trailing down her back in thick dreadlocks. She has rocked the head scarf, the silver headband, faux diamonds in her hair... heck, the girl has even pulled off shoulder pads. La'Porsha Renae's American Idol outfits, like her singular voice, are always up to the challenge.
Renae has fast become not only a judge favorite on American Idol, but a fan favorite as well. The 22-year-old Mississippi native has traveled a long road to get to the American Idol stage, and earned every amount of kudos heaped on her thus far. She has been compared to Aretha Franklin with her "big, soulful voice."
Marc Silver of The Washington Post called her "a singer of extraordinary strength" and credited Renae with his renewed interest in the long-running Fox show. Her big brown eyes, commanding presence on the stage, (she knows she owns it, we know she owns it, so why not?) and That Massive Voice have injected some much-needed life into American Idol.
And we haven't even started talking about her outfits. In the spirit of other bold, outspoken women who have come before her like Nina Simone, Aretha Franklin, and Tina Turner, Renae favors all things that take things to the next level.
And speaking of Nina Simone...
Right?
Of course, Renae's boldness transcends beyond her outfits. She has been outspoken about being a survivor of domestic abuse (she left her alleged abuser not long before her American Idol audition and was seeking refuge in a women's shelter) and continues to be proudly fearless. When speaking to Kate Dries of Jezebel, Renae talked about not making it to Hollywood the first time she auditioned for American Idol at 16, and what has changed her the most.
I think life experiences really played into how much motivation and determination I had, because I have my daughter now, so when I get up there it's about her, which makes me more fearless, and not really care about messing up or trying to be perfect. I just want to convey emotion and the message of the song.
Speaking of her daughter... can I just say that Renae's 1-year-old daughter, Nayalee Kaye, happens to be just about the sweetest little thing I've ever seen. I love how unapologetic Renae is about being a single mom (anyone remember when she casually asked J-Lo to hold her baby while she sang?)
So, now that we are down to the final three on American Idol, be sure to tune in to Fox on Wednesday to get even more Renae. Because, no matter the outcome, I think good things are gonna be coming down the pike for her. After all, fortune favors the bold.