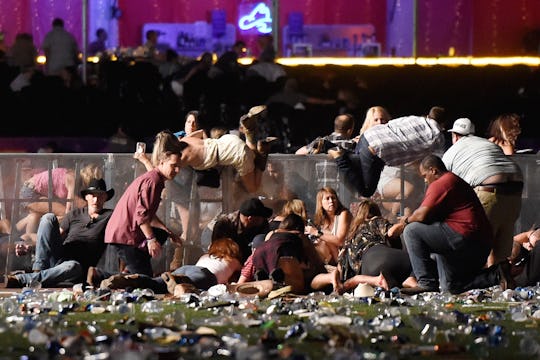 David Becker/Getty Images News/Getty Images
Las Vegas Shooting Is The Deadliest In U.S History
Once again, America is facing the kind of news that terrifies, horrifies, and devastates. A gunman and a horrific death toll. It's sadly not surprise any more, but that doesn't make it any less shocking and heartbreaking: It's being reported that the Las Vegas shooting is the deadliest in U.S. history. At least 50 people have lost their lives. At least 400 more are injured. And this all too familiar story is still unfolding.
Update: As of 6 p.m. ET on Monday, Oct. 2, CNN reports that 59 people have died and over 500 people were injured. Authorities say the suspect had 18 additional firearms, explosives and several thousand rounds of ammo at his home in Mesquite, NV.
This time, the attack came while people were gathered for a music festival. The Route 91 Harvest Festival, a three-day country music event, came to a violent halt when sounds of automatic gunfire tore through singer Jason Aldean's performance, reports the New York Times. Clark County Sheriff Joseph Lombardo confirmed the main suspect in the attack was 64-year-old Stephen Paddock, who has been shot dead by authorities. A woman named Marilou Danley, 62, was also being "sought for questioning," and, reports The Independent, has been located by police, though it's unclear whether she is alive or dead.
Also according to The Independent, "witnesses described seeing flashes of light high up in the tower of the Mandalay Bay Hotel and a noise 'like firecrackers' as a 'clip after clip' was unloaded into the crowd.
"We heard what sounded like firecrackers going off. Then all of a sudden we heard what sounded like a machine gun. People started screaming that they were hit… When we started running out there were probably a couple hundred [people] on the ground," eyewitness Meghan Kearny told MSNBC. "People were trying to save their friends. There were gunshots everywhere. Helping them would've meant that we got shot too."
Accounts like this echo devastating accounts that came out of Orlando in June 2016, the night that a gunman murdered 49 people at the Pulse nightclub.
"Please, let this be the end of it."
This wish, tweeted by a stranger on the internet, is the same one I have every single time a senseless nightmare like this wreaks devastation, making me think twice before I head into a movie, or send my daughter to school. But somehow, it never is.
According to NPR, not much is know about the suspected gunman Steven Paddock. "He lived in a town called Mesquite — which is about 90 minutes north of Las Vegas [in Clark County]," reported Casey Morell of KNPR in Nevada.
At a news briefing, Clark County Sheriff Joe Lombardo said the shooter acted as a "lone wolf" — another term that's all too familiar. As reported by NPR, Lombardo shared that "officers confronted the suspect on the 32nd floor of the Mandalay Bay Hotel and Casino and a SWAT team used an explosive to breach the room." Lomabard confirmed that "multiple weapons" were found in the room.
What is known, according to a statement just released by the Las Vegas Police department, is that this "lone wolf" open-fired on a crowd of more than 22,000 people. And he had the firepower to murder at least 50 people, and send over 400 more innocent human beings to the hospital.
It's beyond comprehension. Columbine. Virginia Tech. Sandy Hook Elementary School. Aurora, Colorado. San Bernardino. Orlando. The list goes on and on and on. And now Las Vegas, with this devastating death toll and hundreds of injuries — with desperate people still looking for their loved ones, hoping against hope that they'll soon mark themselves safe on Facebook, or answer their phones — now Las Vegas is here to take its place as the deadliest shooting in modern U.S. history.
For now.