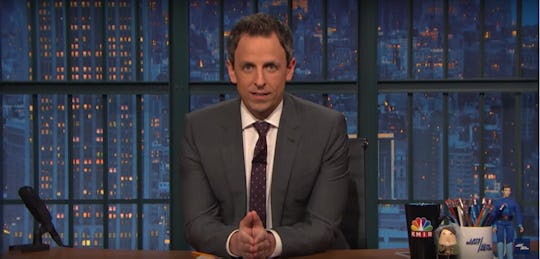 Late Night with Seth Meyers
Late Night Hosts Address Paris Terror Attacks, & Somehow Make It OK For Us To Laugh Again
Late night talk show hosts were faced with a tough challenge these last few days, in the wake of the terror attacks in Beruit and Paris. While these were serious, tragic events that shouldn't be ignored, their jobs are to make us laugh. It's a tough balancing act, but show after show managed to be both respectful and entertaining. It began on Friday night's The Late Show with Stephen Colbert. Word of the Paris attacks reached them just as they were wrapping Friday's performance, which is shot in the afternoon.
Soon after, Colbert addressed the audience, and said somberly:
I know that not much is known right now, but we do know that there have been many deaths, the crisis is still ongoing. President Hollande has declared a state of emergency, and President Obama has promised the United States will do whatever it takes to bring the terrorists to justice. We add our thoughts and prayers to everyone in Paris, and now we'll see you on Monday. Good night.
Meanwhile, Real Time with Bill Maher opened its live 10 p.m. show with Maher singing a bit of the French national anthem, and telling France, "We're with you." On Saturday's episode of SNL skipped the usual cold open sketch, and began instead with Cecily Strong addressing the camera: "Paris is the City of Light. And here in New York City, we know that light will never go out. Our love and support is with everyone there tonight. We stand with you." She then repeated the sentiment in French.
Our first taste of laughing in the face of tragedy came on Sunday, during Last Week Tonight. Host John Oliver noted that "There are a few things we can say for certain, and this is when it actually helps to be on HBO, where those things can be said without restraint." He then offered, in lieu of a moment silence, a moment of "premium cable profanity," in which he called the terrorists f*cking *assholes about ten different ways, and ended with, "France is going to endure." Don't watch this at work, or around small children or sensitive older folks. (You've been warned!)
On Monday night, The Daily Show's Trevor Noah said that the attacks were "less about a specific group and more about an attack on humanity itself," according to the New York Times. On Conan, host Conan O'Brien skipped the usual jokes about the news: "We were looking through the paper today, and I thought maybe we should just start the show by saying, instead of doing jokes about the news, just say that our thoughts are with the people of Paris, and France, and everybody who's been affected by this terrible tragedy worldwide, and let's just say that."
Larry Wilmore's Nightly Show tribute was a bit less subdued: "Look, France, you are our oldest ally. You understand us more than anybody. You gave us our biggest emotions, bling, you even put up with us when we tried to change the name of your delicious fries. You have always had our back. If somebody f*cks with you, they f*ck with us, all right?"
Back on The Late Show, the band opened with the French national anthem, and images of New York normally shown during the credits were replaced with images of Paris. Colbert addressed the audience from his desk: "New York is a city that, sadly, knows too well the horror that France experienced on Friday." He thanked France for all they've done for America, from their assistance during the Revolutionary War to inventing French kissing.
On The Tonight Show, Jimmy Fallon offered "a hug for all of the people watching our show in Paris." He defiantly announced that "Those shootings and bombings were set out to destroy us and destroy humanity, but guess what? It backfired. Because instead those events brought us all even closer together." Addressing Parisians again, he ended with, "From all of us here at The Tonight Show, our thoughts are with the families and friends of the victims, and we want to let you know that we believe in you."
Finally, Late Night's Seth Meyers seamlessly blended heartfelt condolences with comedy: "I wish I could say words in French about this. My mother was a middle school French teacher; she was my middle school French teacher. I was such a terrible student that about all I could do right now is list vegetables, colors, maybe a few days of the week." He mentioned that he'd visited Paris, and in fact almost proposed to his wife there. "I should have; it would have made for a far less awkward and tense flight home." Meyers notably goes beyond the Paris attacks, mentioning that like many people, he was guilty of ignoring the attacks in Beirut. He also acknowledged that these attacks will make life even harder for Syrian refugees, who were already unwelcome in so many countries.
Yes, it is possible to laugh after tragedy. And we should! While it's important to acknowledge that these attacks took place, we can't let them stop us from living our lives. We can't allow ourselves submit to terror. Paris will go on. We'll all go on. And a little help from late night comedy won't hurt.
Image: Late Night with Seth Meyers/YouTube