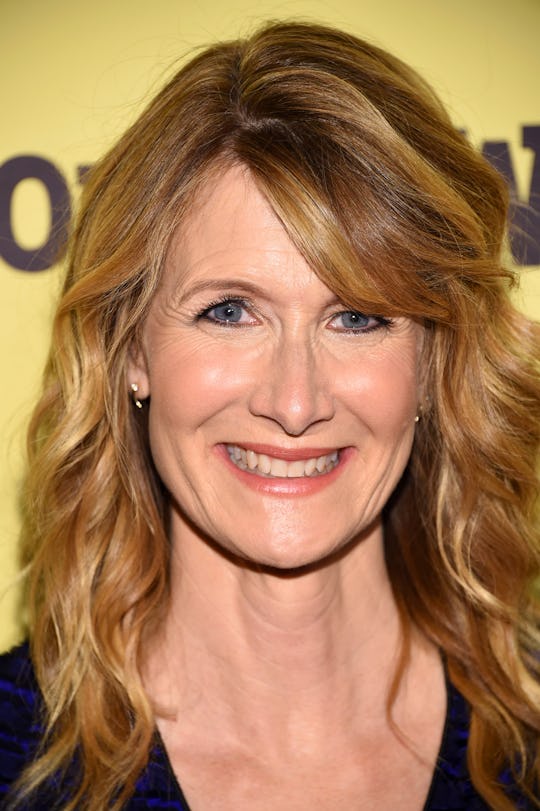 Dimitrios Kambouris/Getty Images Entertainment/Getty Images
Laura Dern's 'Kimmy Schmidt' Role Came With A Twist
Spoilers from Season 3 ahead! At the end of Season 2, viewers found out that not only was Kimmy legally married to the same reverend who'd kidnapped her and held her captive for 15 years, but he also wanted a divorce so he could marry someone else. In the words of Kimmy, what the fudging fudge? Naturally, his wife-to-be was in the new season, and Laura Dern's cameo in Unbreakable Kimmy Schmidt Season 3 was probably the perfect way to bring the actress into the fold
She showed up with the new divorce papers, including documentation of the rightful shares of the reverend's belongings and money to go to Kimmy, but still Kimmy couldn't sign. This time, though, it wasn't to prolong any kind of torture for the reverend, but instead to save his new fianceé Wendy from being married to a monster. For the duration of Wendy's visit, Kimmy took the opportunity to leave the apartment, but in the end it was just too sad of a situation to completely ignore. Once Kimmy made it clear that she wasn't going to sign the papers (still), Titus was all of us as he watched on in dismay with his jar of pasta sauce and slice of American cheese. Sounds delicious, right? OK, maybe not.
But it proved to be a shining moment for Kimmy. Sure, she'd interfered in someone's life to help them and sacrifice something for herself yet again, but it was necessary this time.
And there probably couldn't have been a better choice to play the reverend's fianceé than Dern. Some fans might remember her as the equally unpredictable Renata on HBO's Big Little Lies and she'll be in the upcoming Twin Peaks reboot as well. Dern has a way of looking and sounding so sweet one minute and snapping the next, so of course that would be the woman Kimmy would be up against. But Dern's cameo in Unbreakable Kimmy Schmidt was well used.
The three-time Golden Globe winning actress didn't get that way by playing her roles under the radar and even if her spot in Season 3 is a one or two episode thing at the most, it's difficult to really picture anyone else playing that role now. But even though Dern's character has some definite issues to work through in regards to relationships, she's also sympathetic at times, which seems to be part of the talent Dern brings to the table. So she really was the perfect choice for the reverend's bride-to-be.
Since Kimmy still didn't sign the divorce papers, the reverend and Wendy can't get married just yet, so Dern's cameo may have been a one-off, but hopefully she'll be back to bring the super highs and scary lows of each scene as she does so well.