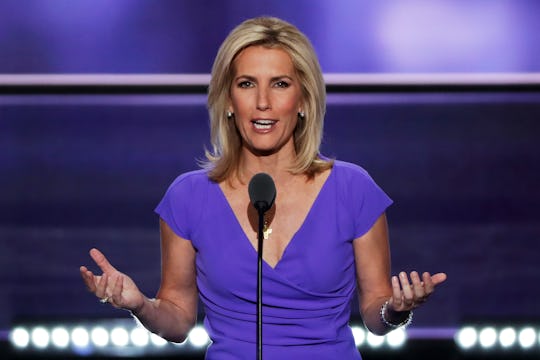 Alex Wong/Getty Images News/Getty Images
Laura Ingraham Apologizes For Mocking A Parkland Student After The Internet Came For Her
There are some days when the internet is tough to digest. When it feels like a terrible black hole where all of the bad feelings of the world are being dumped and shared. Then there are days when it feels like the people of the internet truly deliver. Today is one of those days. After facing strong backlash on social media, Fox News host Laura Ingraham has apologized for mocking a Parkland student, as Bloomberg reported on Thursday.
Ingraham took to Twitter on Thursday afternoon to apologize after mocking Parkland student and gun violence survivor David Hogg earlier this week. On Tuesday, Ingraham linked to a story by The Daily Wire on Twitter, entitled "Gun Rights Provocateur David Hogg Rejected By Four Colleges To Which He Applied" and added the caption, "David Hogg Rejected By Four Colleges To Which He Applied and whines about it. (Dinged by UCLA with a 4.1 GPA...totally predictable given acceptance rates.)"
Hogg is a survivor of the school shooting at Marjory Stoneman Douglas High School in Parkland, Florida that claimed the lives of 17 people. He and several other students have gained international attention by coming together in the wake of the tragedy to call for gun policy reform in Congress. The 17-year-old was one of the leading activists behind the March For Our Lives event on Saturday, which aimed to end gun violence in America and drew an estimated 500,000 supporters in Washington, D.C. alone.
Ingraham has been a critic of the March For Our Lives campaign, telling Fox News it was "political theater lacking substance," according to Fox News Insider.
The people of Twitter quickly criticized Ingraham for stooping to personal attacks with the high school student.
Hogg responded to Ingraham's tweet with a pretty impressive clap-back himself on Wednesday; a list of 12 advertisers who support Ingraham's program. His tweet was retweeted more than 41,000 times in two days.
At least three advertisers said publicly they were in the process of pulling their endorsements from Ingraham's program, The Ingraham Angle, after her comments, Nutrish, TripAdvisor, and Wayfair all told The Daily Beast they were cutting ties with Ingraham.
On Thursday, Ingraham took to Twitter again — this time to apologize for appearing to insult a high school student (not to mention not reading the article she linked to; Hogg has a 4.2 GPA and was accepted by Cal Tech, according to the New York Post). Ingraham wrote that she was apologizing for "any upset or hurt" her tweet had caused Hogg in the "spirit of Holy Week."
She went on to note in a second tweet that she would be happy to have him on her show again, saying she had once remarked about how "poised" he was in the aftermath of the tragedy.
Whether or not Ingraham's apology was spurred on by the threat of fleeing advertisers or genuine remorse at having publicly mocked a high school student for not getting into college remains to be seen. Romper's request for further comment on the backlash Ingraham's initial tweet received was not immediately returned
And while Ingraham might have invited Hogg to return to her show for another interview, that might not be in the cards. Particularly after some eagle-eyed tweeters noticed the word "poised" inexplicably in quotation marks in Ingraham's tweet.
But perhaps the more important takeaway from the situation is this; David Hogg, a 17-year-old high school student, was able to evoke change with a simple tweet. That's pretty impressive.
Check out Romper's new video series, Romper's Doula Diaries:
Watch full episodes of Romper's Doula Diaries on Facebook Watch.