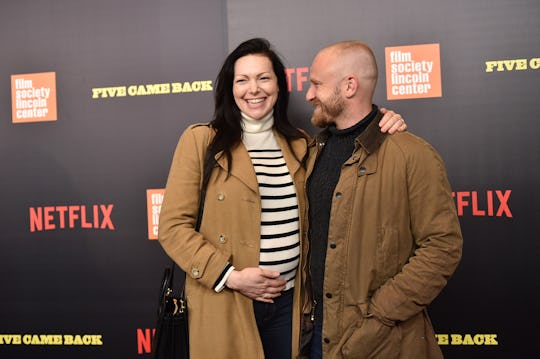 Mike Coppola/Getty Images Entertainment/Getty Images
Laura Prepon's Quotes About Motherhood Show Privacy Is Key For Her
For actress Laura Prepon, pink is the new black as she gave birth to her first child — a girl, according to Us Magazine. Laura Prepon's quotes about motherhood have been few and far between since giving birth to her daughter, whose name has not yet been revealed, but then again, it's not surprising given how private the the 37-year-old actress is. Prepon welcomed her first child with actor and fiancé Ben Foster. Neither Prepon nor Foster have spoken publicly about their daughter's birth, and representatives for both did not immediately return Romper's request for comment.
Even though Prepon might be tight-lipped about what new parenthood must be like, don't assume she's just been hiding away with her newborn. According to People, Prepon and Foster were reportedly spotted out Tuesday in New York City's East Village for a "date night" at Out Eat — Prepon noticeably sans baby bump and the pair with no baby in tow, either. Props to the new parents for taking a night out to themselves; looks like Prepon might be taking cues from Beyoncé's ability to enjoy herself with newborns at home.
Even though Prepon has kept her cards close, she had opened up in interviews about her forthcoming foray into motherhood, revealing some sweet details.
Last month, Prepon spoke to Us Magazine to reveal how she felt about being pregnant. She described the experience as "incredible," while also reiterating her preference for privacy.
I'm creating life and it's so incredible. I'm so ecstatic for this experience, but you go through so many changes. We've been in the Pacific North West keeping it low-key. I'm a very private person.
Prepon's Instagram has a handful of posts of her beaming in her late pregnancy, but she has yet to post any photos of her new daughter — which is totally OK and perfectly in character with the kind of low-key, chilled-out celebrity she is.
Prepon is best known for her role as lesbian drug runner Alex Vauss on Netflix's Orange Is The New Black. She spoke to Extra in June at the Season 5 OITNB premiere in New York City, where she talked about how she planned to handle filming for OITNB and a newborn:
I can't really take time off because we go back to work… she'll be coming to work with me. It'll be great, it's just a matter of scheduling.
Looks like every day will be "take your daughter to work" day for Prepon now that her daughter has arrived.
Prepon also shared how her daughter has helped her get in touch with her roots — in the way of pregnancy cravings. On Live with Kelly and Ryan, Prepon opened up about her crazy cravings:
Growing up, my father would take us to this deli and we would get pastrami sandwiches on rye, and we would drink Dr. Brown's black cherry soda. And what's so funny is I haven't eaten that stuff in years, and since I've been pregnant, I've been craving this Jewish deli food, with, like, the pickles and the sauerkraut and the mustard. So we tend to kind of delve into that.
Regardless of whether fans will get to see Prepon's daughter via social media, or hear her thoughts about what it's like to be a new mom remains to be seen, but for now, it seems as though keeping her personal life out of the limelight is her motherhood M.O.