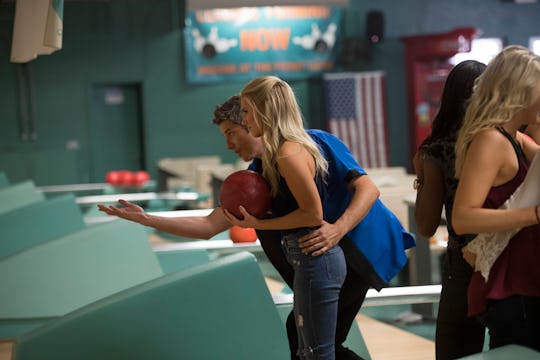 Paul Hebert/ABC
Lauren B.'s Instagram Before 'The Bachelor' Gives Insight Into What She's Like IRL
It is a time-honored tradition when watching The Bachelor to painstakingly research the top contenders (and the most entertaining) on their social media pages. Since Lauren B. has suddenly pulled ahead as one of the ladies to watch, obviously I took to her Instagram to find out more. And Lauren B.'s Instagram before The Bachelor proves that she's basically exactly as she appears to be. This woman clearly loves her life and loves her friends. And I've got to say she looks dang good the whole time, but that should have been a given.
During the first few weeks of the season, Lauren B. wasn't seen much. More camera time was give to early favorites like Becca K. and Tia — who the world in general has claimed as their new best friend. A lot of attention was also given to Krystal, the designated "villain" of the season (every season has one) and to Bekah, who made waves for being 22 years old. (Pause for gasps.) But in Week 5, when the gang was gathered in Ft. Lauderdale, Florida, Lauren B. suddenly seemed to pull ahead and I thought, wait, who is this person? So I set to work on finding out what she's like in real life.
She Has A Little Brother
Lauren posts tons of pictures with her elementary-school-aged little brother, who is obviously adorable. "Can't get enough of that sisterly love," she captioned this cute picture. Hey, I'm sure he knows that girls don't always have cooties, right?
She Loves Hanging With Friends
I mean, who doesn't really? But from the looks of her social media, Lauren has a ton of close girlfriends that she's always palling around with, whether they're getting drinks, going to the beach, or taking selfies. Gotta love a girl with a good group of buddies — I take it as a solid sign that Lauren is well-liked and fun to be around. (She does claim being fun to be around as one of her best attributes in her ABC bio.)
She's A Dog Person
Arie has mentioned his own dog before, and Krystal was even lucky enough to meet this famous pooch. He even took the women on a puppy-themed group date, that's how much of a dog person he is. Luckily it looks like Lauren has her own beloved doggie that she loves to post pictures with. In this caption she refers to him as a "pumpkin butt" which may be the most relatable thing she's ever said.
There's A Lot More Than Meets The Eye
Really, there's only so much one can learn from a person's Instagram page. After all, this is where people tend to display only their best selves. So I'm sure Lauren has bad days occasionally too, though there's definitely no evidence of that here. The ABC bio has a little more information, like the fact that if she could be a fictional character she'd be Elsa from Frozen because she's always wanted to be a Disney princess. Or my favorite tidbit that her greatest athletic achievement is her second degree black belt in Tae Kwon Do.
Arie has admitted that he fell in love with two women when he was on the show, and I'm beginning to suspect that one of them is Lauren B. I mean, from all of this, what's not to love? She seems like the type of person that nobody can really dislike. I can't wait to see if I turn out to actually be right. I have a feeling everyone is going to be learning a lot more about this lady in the next coming weeks.
Check out Romper's new video series, Romper's Doula Diaries:
Watch full episodes of Romper's Doula Diaries on Facebook Watch.