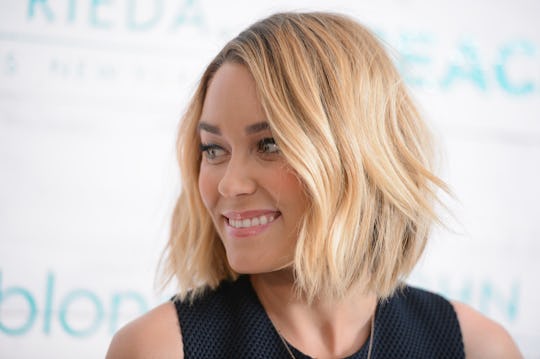 Dave Kotinsky/Getty Images Entertainment/Getty Images
How Lauren Conrad Is Mentally Preparing For Motherhood
While there's not much you can do to totally get ready for the monumental changes that will happen when you welcome a baby into your life, in a recent interview with People Lauren Conrad revealed how she's been preparing for motherhood. The 31-year-old former reality star also opened up about the big changes she's anticipating for both her and husband William Tell after their first child, a baby boy, is born later this summer. One thing she knows will be turned upside down? Her sleep schedule and how much of it she'll get.
"It's going to be a lot less sleep, so that'll be an adjustment, but we're excited," Conrad told People in an interview for the magazine's latest issue.
She continued, "I see our lives changing. I think you don't know until you're there. I have very nice friends who are attempting to prepare me, but everybody does it differently."
Sure, talking with friends and family about the challenges and brand new responsibilities ahead can certainly help, but each mother and father has their own parenting style and they'll learn how to work out any kinks and what works for their family after their little one arrives.
But in the meantime, it definitely doesn't hurt to soak up any and all kid-free moments. Like Conrad and her husband did when they went on a babymoon to a tropical destination back in March. "Babymooning and pretending my blended lemonade is a margarita," she captioned a photo of her bump on the beach.
Fortunately, though, Conrad and Tell won't be alone on this journey as she told People that they'll be surrounded by lots of supportive family members after their little guy arrives.
"William and I are so fortunate that we're having the first grandchild on both sides," she said in the same interview. "Both of our families live about 20 minutes from us so I think we'll have a lot of help, which is really great."
And that will certainly come in handy from time to time when they need a little help sharing this new workload.
While Conrad has a tentative plan for her maternity leave, the expectant mama also revealed that she's leaving much of the timeline up in the air for now.
"I'm giving myself a terrible maternity break," she told People. "I'm trying to get a couple weeks and we'll see ... I'm going to attempt to take two weeks of a blackout — no emails or anything — and then I'll have to just figure it out from there."
While Conrad has yet to officially announce her due date — and has written in her blog that it's not usually good idea to ask about a pregnant woman's due date — People noted that she'll deliver her little boy sometime this summer.
As for becoming a first-time parent to a son, Conrad told Fit Pregnancy and Baby that she's "thrilled to be having a boy."
She continued, "I really wanted a boy. My husband kept saying, 'We just want a healthy baby.' And I'd say, 'But a boy would be nice!' I was a wild little tomboy, so I think I understand boys. My mom always told me that nobody loves you like a son does, especially when he's young."
It's clear that Conrad is really looking forward to becoming a mom and it might be only a matter of weeks until she welcomes her bundle of joy. But hopefully her and Tell are taking advantage of all the cat naps they can until then.