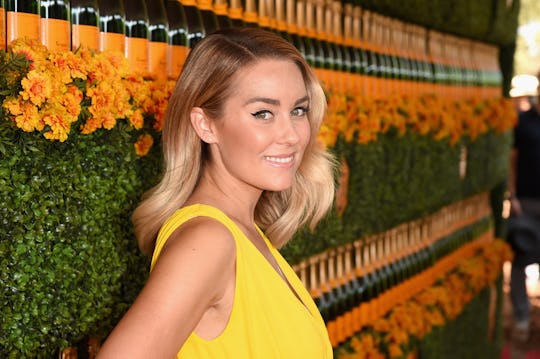 Jason Merritt/TERM/Getty Images Entertainment/Getty Images
Lauren Conrad's Comments About Her Post-Baby Body Will Make You Say, "Yep, That's Me"
After nine months spent preparing to bring a baby into the world, and then doing just that, new moms deserve a break. Instead, they often feel pressured to diet and exercise like fiends to lose the baby weight and look as though they didn't just grow another human inside of them. That's a tall — and totally unnecessary — order, which is why Lauren Conrad's comments about her post-baby body are so refreshing and completely relatable. The MTV reality icon turned fashion designer gave birth to her first child just last month, and since then she's been giving herself a break and simply "trying on a new shape," she said in a new interview with People magazine.
As part of her People cover story, out Wednesday, Conrad shared the very first photos of little Liam James Tell, her son with husband William Tell. The growing family could not be more adorable, and Conrad is clearly adjusting beautifully to life as a mom. That's much more important to her than shedding the 35 pounds she gained throughout her pregnancy, as she told People:
I just made a person. It's fine. And there are always things you can do to make yourself feel better. ... I'm trying to focus on things that are positive — like, I've never had boobs before, so I'm going to try those on for a little bit. I'm trying on a new shape.
That's not to say that Conrad isn't planning on caring for her body. According to People, she's "excited to get back into" her exercise routine when her doctor gives her the go-ahead. Slimming down just isn't her top priority — and that's 100 percent A-OK, because, honestly, most new moms have much bigger things to worry about than being able to shimmy back into their pre-pregnancy jeans. But it's easy to forget that in a society that always seems to want to know whether celebrities are working out about five minutes after they give birth and emphasizes the need for women to get their bodies "back."
So, kudos to LC for reminding moms that carrying a little extra weight is totally fine. And, of course, for sharing her specific pregnancy cravings, which included peanut butter and jelly on sourdough, macaroni and cheese, and red meat, which she previously had not eaten since she was a teenager.
"Poor William was like, 'I don't know what to feed you!'" Conrad said. "I wanted carbs and cheese. William said I ate like I lived in a roller rink. I wanted kid food. That's all I wanted."
And it seems as though Conrad will have plenty of opportunities to gorge on "kid food" all she wants, now. In addition to welcoming little Liam, she also hopes to have another child, she said, according to People. For her, two kids is the perfect number, so that she and Tell won't be "outnumbered."
Keep eating that macaroni and cheese and leading the way, Lauren!