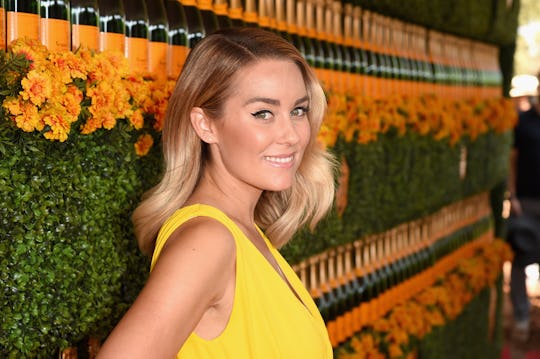 Jason Merritt/Getty Images Entertainment/Getty Images
Lauren Conrad's Latest Bump Instagram Is Stylish AF
While on her tropical babymoon this week, lifestyle blogger and fashionista Lauren Conrad showed off her baby bump in an Instagram post to announce the launch of the LC Lauren Conrad beach collection. In the post, a pregnant Conrad is featured wearing a coral bikini with a floral, flowy coverup. She wrote that she was stoked to announce the launch of her newest, seasonal line, but had trouble being the face of the collection given how far along she is. "Up until now we only had sample sizes so I wasn't able to squeeze into a bikini for my baby moon, but I lived in the pretty coverups like the one above," she wrote.
If you're swooning over her look, the line is very affordable and can be purchased exclusively through Kohl's. Pieces start in the mid- $30 range and top out at $70, so if you want that breezy Laguna Beach look, it's not totally out of reach. The collection is comprised of a one-piece suits and bikini separates, which are meant to be mixed and matched. There are also rompers, cover ups, and simple dresses to complete your beach look. Conrad told Yahoo Style, "The overall vibe is tropical. We did some very fun colors, like hunter green and paprika, and then some really pretty peaches-and-cream."
Conrad added that she's very into the handful of off-the-shoulder dresses in the new line, too. Just in case you're worried that they might be too trendy, Conrad has your back. Off-the-shoulder dresses are here to stay in the soon-to-be mother's humble opinion:
I think [the trend is] going to hang out for a minute. I think different versions will happen, like straps will be incorporated, ruffles, and we'll kind of reimagine it.I don't think it's going anywhere right now. It's a nice way to show a little bit of skin, but you can still feel a little conservative about it.
All of the pieces in her collection speak to the idea of wearing what feels most comfortable — especially while pregnant. Conrad told Yahoo Style that for her, wearing a bikini while pregnant was a no-brainer but she just had to "size up." But her breezy dresses and one pieces are perfect, too.
She explained, "Some people want to wear a one-piece, they want to be a bit more modest. I think it just depends how comfortable you are showing off a different shape."
The formerHills star announced her pregnancy at the start of the new year with an Instagram post of her ultrasound. Baby Conrad is definitely arriving sometime soon. Conrad just had a baby shower with friends and family earlier this month, too. She shared a moment from the party in an Instagram Story, writing, "So lucky to have these wonderful ladies in my life! They spoiled me with a beautiful shower today."
Whether it's with her friends, the launch of her clothing lines, or celebrating her baby bump in a bandeau bikini top, Conrad is obviously living her best pregnancy life.