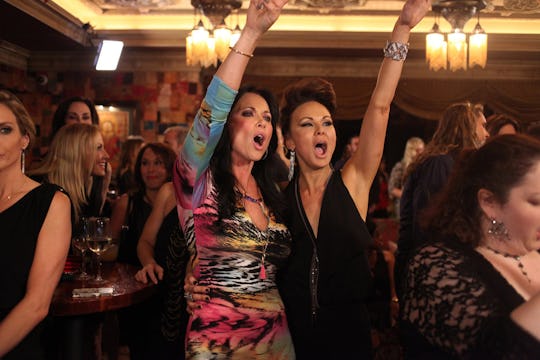 Bravo
LeeAnne Locken Rumors Spread On 'Real Housewives,' But Here's Why We Shouldn't Feed Them
On the Real Housewives of Dallas episode "Mouth of the South," Marie Reyes, "friend of the show," hosts a happy hour event for all the ladies, plus a mutual friend of hers and LeeAnne's named Taylor. Taylor is, in fact, "the only boy allowed" at the girls' night out. And, of course, he's the one who brings the drama. Taylor, a fellow charity circle friend who very clearly has an ax to grind with LeeAnne, starts gossiping with her mortal enemies (OK, maybe a bit dramatic), Brandi and Stephanie. LeeAnne Locken rumors spread on Real Housewives, but they're actually a little below the belt, even for the franchise.
Taylor essentially alleges that LeeAnne once literally and not figuratively "sh*t her pants," which Brandi and Stephanie run with, especially since LeeAnne got so bent out of shape about Brandi's poop hat stunt at the Mad Hatter's Luncheon. It's a mean rumor to start, no matter how relevant to her altercation with Brandi it may be, because it doesn't really focus on LeeAnne's actions (which are more than ample sources for critique). Fans have plenty of reasons not to like LeeAnne, from her beliefs about "propriety", to the way she treats the other women, to her comments about Plano, Texas. (Hey, maybe you're from Plano!)
In the episode, Brandi approaches Tiffany with the rumor as a joke and Tiffany's response is basically the best reaction we can hope for to a really weird story that sounds pulled out of a Seventeen magazine's "traumarama" section. Plus, the fact that Taylor — an entity heretofore unseen or heard from on Real Housewives of Dallas — arrives at a filmed event and drops this mega-embarrassing "bombshell" to known enemies of LeeAnne's, when he also has made known that he doesn't like her, smacks of someone searching for his 15 minutes of Bravo fame.
For her part, LeeAnne addressed the Mad Hatter's poop hat incident on Watch What Happens Live after the episode in question aired, saying, "The poop humor only bothers me when we're at a charity event." She also alludes that Taylor's allegations of her being a bully are not true.
She also teased of her relationship with Brandi, "We have a few more confrontations and then you're gonna see some ups and downs," implying that they do find some resolution to their ongoing conflicts. LeeAnne does seem to find some compassion for Brandi somewhere along the way, complimenting her big heart on WWHL. So it seems like all is not lost between the two, even though this particular happy hour event ends with a glass of champagne smashed on the floor.