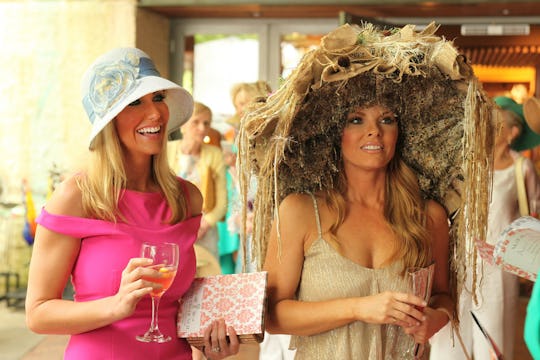 Bill Matlock/Bravo
LeeAnne Locken & Brandi Redmond Feud On 'Real Housewives,' & It's Just The Start Of Drama
Continuing their antics from the season premiere, Real Housewives of Dallas stars LeeAnne Locken and Brandi Redmond feud on the second episode of the newest installment in the Real Housewives franchise. At the next round of charity events, Brandi and LeeAnne attend the Mad Hatter's Tea and Luncheon, hosted by The Women's Council of the Dallas Arboretum and Botanical Garden. Adhering to the event's theme of "April in Paris," attendees traditionally arrive wearing elaborately designed hats (costing in the neighborhood of $5000).
Last year's winner was queen of the Dallas charity scene LeeAnne herself, but this year, she takes issue with Brandi's somewhat...irreverently designed hat. Brandi goes for a homespun look, making her hat at home, and covering it in a moss garden, with some bird nest detailing, a tiny plastic dog, and a whopping three different species of fake plastic poop snugly nestled into the garden.
Even though there were to-scale sized fake human poops on the hat, most guests at the luncheon didn't seem to notice the more unsavory elements going on atop Brandi's head. Her massive, dramatic accessory mostly just drew lots of attention from folks wanting to take a picture, and praise her for how she made it with her kids.
The rowdier Housewives, of course, caught on and had a laugh. But LeeAnne did not think it was funny. She assumed the same righteous indignation as when she found out Brandi did a somewhat unflattering impression of her at the last charity lunch, and LeeAnne actually tattled on her to a charity bigwig at the Mad Hatter's event. For her part, Brandi sort of lets Cary and Stephanie plant one of the poops on LeeAnne's chair as they're all sitting down to lunch. Naturally, LeeAnne is less than amused.
Unfortunately, it seems like Brandi's response to tension is to crack a joke or pull a prank, and LeeAnne's response is to get even more self-serious. It doesn't bode well for these two ever becoming friends, even if they do manage to apologize every time they butt heads. Now it's just up to the rest of the Housewives to choose their sides.