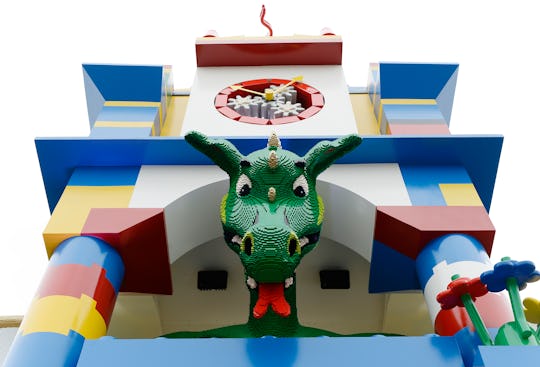 Kevork Djansezian/Getty Images Entertainment/Getty Images
Legoland Is Making Its Park Inclusive For Kids With Autism
Any parent who has ever spent a day at a theme park knows what it's like to have sensory overload. Everywhere you look, there are bright colors and noises and people and smells. It can be tough for anyone, let alone a child who is living with autism spectrum disorder. Theme parks are meant to be enjoyed by every kid, if possible, and one theme park in particular is taking steps to make sure that's the case: Legoland is now offering children with autism "quiet rooms" to make sure they feel included and safe, and have a place to go when they feel overwhelmed. And it's about time.
In an effort to be conscientious and thoughtful for all of its guests, the Legoland theme park in Winter Haven, Florida, teamed up with the Autism Speaks advocacy group in early 2016 to come up with practical ways for autistic children to enjoy themselves. Since then, the park has added "quiet rooms" in the First Aid and Baby Care Centers that allow children to play with Legos while wearing noise-canceling headphones if they choose. They've also made weighted blankets and soft toys available to children with ASD (studies have shown that weighted blankets provide a calm sense of security and general wellness for people living with ASD).
Quiet rooms are just one of the many ways Legoland is making their theme park more comfortable for kids with ASD; At no extra charge, kids can get a "Blue Hero" pass to help them avoid standing in long lineups to visit attractions if they find themselves struggling. There are also additional "social stories," according to The Huffington Post, which offer kids a heads-up about sounds and sights that will be happening during rides so they aren't confronted with the unexpected. The CDC reports that one of the conditions of ASD is a heightened sensitivity to loud noises, particularly when the noises happen unexpectedly.
Legoland sent out a press release on Tuesday further explaining how its new employees would be trained to support children with ASD:
All newly hired resort employees (called "Model Citizens") now receive specialized training to prepare them with skills and sensitivities to more effectively interact with guests on the autism spectrum, as well as their families or caregivers. Consultations include Dr. Craig Glaser, the resort's medical director, who also serves as medical director of Winter Haven's Urgent Care Cypress facility.
All of this is a massive step in the right direction to make sure kids living with ASD are able to participate in that most treasured of childhood rituals: a day spent playing at a theme park.