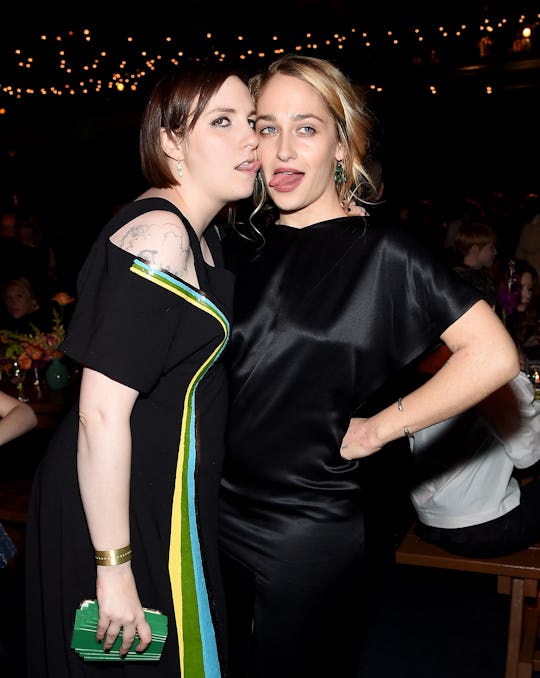 Jamie McCarthy/Getty Images Entertainment/Getty Images
Lena Dunham & Jemima Kirke's Non-Photoshopped Lingerie Shoot Is Refreshing
Here's the thing: Lingerie is for anyone. For you girls out there who aren't fans, I totally get it. It can feel a bit showy, a bit "come hither" for the every day. But I realized about five years ago that lingerie is only come hither for me. I wear it for me, I buy it for me. The fella is a little blah about the lingerie, and I don't give a rats-a--. Because it makes me feel fine. And so I am sort of loving Lena Dunham and Jemima Kirke's non-photoshopped lingerie shoot for a few different reasons.
First of all, it's not really that big a deal to see either of these Girls stripped down at this point; Dunham and Kirke, stars of HBO's Girls, have been pretty free about being in their birthday suits over the past few years, so the exposed skin is no bigs. But this time around, the ladies are sharing some fabulous, non-photoshopped images of themselves in their gorgeous skivvies for the Lonely Girls Project, an "ongoing journal series featuring candid portraits of inspiring women in their own spaces wearing Lonely, their way." The Lonely Girls Project features non-photoshopped women celebrating the shape they've got wearing New Zealand based-Lonely brand lingerie.
Little warning here, all: Some might consider these images NSFW.
Lonely brand lingerie has been dedicated to creating lingerie for women who wear it as a "love letter to themselves" since 2009. A statement from the company reads:
Lonely aspires to showcase women wearing underwear in a way that we usually don't see in mainstream advertising and the media. Instead of being objectified, the women who participate in these campaigns — in this case, Lena and Jemima — are empowered and exhibit real beauty that will hopefully help women everywhere feel a little more liberated.
The brand does not alter or retouch their models' images, and who isn't down with that action? It's certainly right up Dunham's alley. The writer, actress, and producer made a public decision in March not to allow her image to be retouched or photoshopped.
If any magazines want to guarantee they'll let my stomach roll show and my reddened cheek make an appearance, I am your girl. Anything that will let me be honest with you. But moreover, I want to be honest with me.
Not only is Dunham a fan of the Lonely Girl Project ideal, she's also been wearing their lingerie for years.
She captioned this photo from 2015 with:
Love my @lonelylingerie and I think I will wear it to dinner with some boots & a smile because we are all very lucky to be free.
Love her or hate her, the girl is right about one thing — love the skin you're in. And feed it a little satin and lace every now and then, girl, you're worth it.