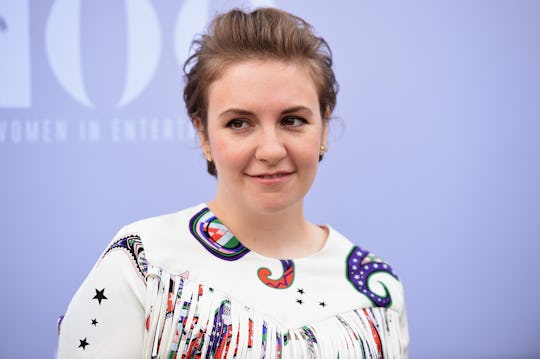 Jason Merritt/Getty Images Entertainment/Getty Images
Lena Dunham Says Kesha's Case Shows Why Alleged Assault Survivors Don't Speak Out
Lena Dunham's Lenny Letter on Tuesday was a passionate defense of Kesha that detailed the ways the recent court ruling to keep the pop star bound to the producer she alleges systematically assaulted her over years is so grossly unfair. She calls out Sony, the judge who made the ruling, and the shameful way society keeps women powerless to protect themselves, or pull themselves out of abusive relationships, because of financial dependence. Lena Dunham supported Kesha in the letter, and it's a big damn deal.
She has power and influence, and it's incredible to see her join with other wildly influential women, like Taylor Swift, to call "total B.S." on a system that forces Kesha to stay in business with her producer, Dr. Luke, who she's identified as her rapist. Dr. Luke vehemently denies any wrongdoing, and he addressed the allegations for the first time himself on Twitter Monday night.
Dunham, in her letter, puts Kesha's battle with Dr. Luke, whose real name is Lukasz Gottwald, into terms far simpler than minutia surrounding legal wrangling over a contract could ever be.
To be clear, Kesha's case is about more than a pop star fighting for her freedom, or a $60 million investment in a shiny commercial career. It's about more than whether Kesha can strap on her cool leotards and make another album, free from a man who she says terrifies her.
Then Dunham links Kesha's case to the long, storied, and sexist history of the entertainment industry.
It's even about more than the systemic misogyny of the entertainment industry, or the way that women in music and film have long been controlled and coerced by abusive Svengalis and entities larger than themselves. (Think: the studio system of the '40s and '50s, when starlets were essentially chattel. Think: Ike and Tina Turner.) What's happening to Kesha highlights the way that the American legal system continues to hurt women by failing to protect them from the men they identify as their abusers.
Dunham's explanation — and championing of Kesha's position — is important because every single woman who is willing to speak out and defend another woman who dares to push back against her alleged abuser is an important part of the fight. Because the proverbial "they," who feminists like me call "the patriarchy," can't keep ignoring women forever. But, patriarchy needs women's silence and consent to carry on, and, luckily, this generation of young, high-profile women refuse to stay silent. Swift was so pissed about the ruling in Kesha's case, she's going to give her a quarter of a million dollars so she can keep fighting.
In her letter, Dunham references college girls and married women, friends and strangers alike, who she knows will be discouraged from speaking out and defending themselves — and their children — because they've watched high-profile women like Kesha get punished in a million different ways for telling their own stories of alleged abuse and assault. And it's heartbreaking.
These matters snap into especially sharp focus when you have a daughter, like I do. She's 5 years old now, but I distinctly remember looking down on my tiny baby and worrying about how the world will treat her versus the boys. I worried about her earning less for the same work and being sexualized before she reaches womanhood. I worried she'd be told her value as a person is completely wrapped up in how desireable she is to men. And so, I made a choice: to rant and rave and yell and scream anytime I saw women and girls being treated less than their male peers. I decided to call out sexism and cheer as loudly as I could for the girls who dared to buck the status quo. I figured, as her mother and future little voice inside of her head, I would make it my mission to give her the power to be whoever she wanted without apologies.
Now, my daughter knows First Lady Michelle Obama is also a powerful lawyer in her own right. She knows exactly who the Notorious Ruth Bader Ginsburg is and that Hillary Clinton is important to us because seeing a woman become president would be a huge historical first. Still, my daughter's current career aspiration is to become a singer, just like Taylor Swift. But thanks to the bravery and influence of the likes of Swift, Dunham, and Kesha, even that choice (which many parents might roll their eyes at) has a delicious feminist quality to it.
So, thank you, Kesha, and Lena Dunham, and Taylor Swift for joining women and moms like me in the fight. I'll continue to write essays and rant about the sexism I see everyday. And women like you will always have my deepest respect for doing the same in a much bigger way. They can't ignore all of us forever. My daughter is depending on it. And Dunham said it best in her letter — she said the days of women hoping they would never be in Kesha's place are over:
The public outcry about Kesha's case has been truly heartening: the swell of shock and indignation from fans and fellow performers alike. It wasn't long ago that women in the public eye didn't have a loose-enough leash to reach out and support one another, for fear of losing all they had worked so hard to create. Instead they quietly watched on their televisions, hoping they wouldn't be next.
Those days are over.
They are fucking done.
#FreeKesha and free all girls.