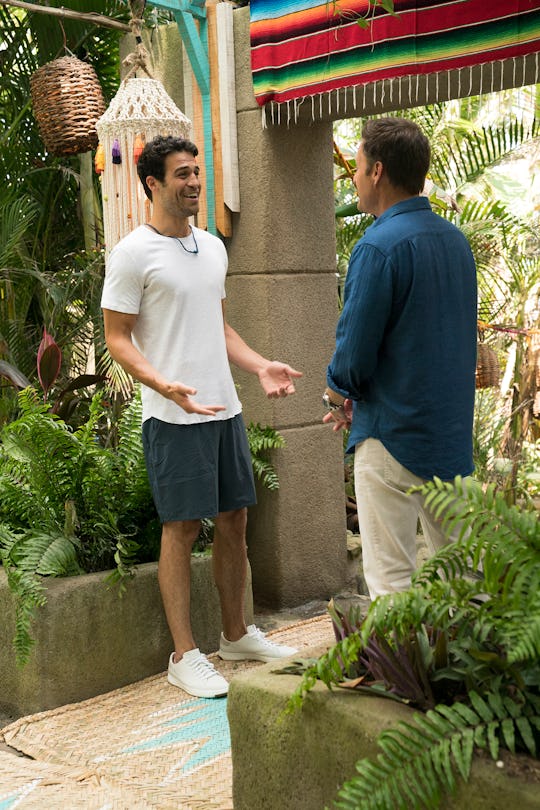 Paul Hebert/ABC
Joe & Leo Finally Had Their Big Showdown On 'Bachelor In Paradise'
Tuesday's episode of Bachelor in Paradise opened up with the tail end of Kendall and Leo's argument. Grocery Store Joe came to the rescue, however, and pulled Kendall away before the argument could continue to go around in circles. So when Leo and Joe got into it on Bachelor in Paradise, it was already long overdue.
The whole issue began when Leo kissed Chelsea immediately after his "phenomenal" date with Kendall. Like anyone would, she called him out on it and he flipped the switch on her. Suddenly, Leo was on the defensive and they were fighting. Rather than Leo apologizing for his actions, he seemed to try and justify them while calling Kendall an "actress" for her part in their almost-relationship and accusing her of "ruining his day." It wasn't a cute look for him. And Joe, being the gentleman and Kendall supporter he is, stuck up for both her and himself. And it got physical (and not in a fun way).
Because it was teased in almost every BiP promo for the season, Joe and Leo's fight wasn't a huge surprise. But it was still hard to watch Leo turn on everyone's favorite grocery store owner-turned Bachelor Nation member. Despite his usually calm manner, however, Joe held his own and followed Leo out of the cocktail party to confront him.
Leo and Joe's fight on BiP Tuesday night could have honestly been a lot worse. Leo's toast — which was more like one long dig at Kendall — ended with him shouting, "Good luck with Grocery Store B*tch." So, Joe followed him out and things got a little physical. Leo even threw his drink on Joe, but there were no fists thrown and no one was seriously injured. Unless, of course, you consider Leo's bruised ego.
In a way, Joe and Leo's fight may have been more hyped up than was necessary. From the multiple promos alone, it looked like things were going to get a lot more intense than they did. And maybe they would have, if security hadn't been close by. Security interfered before things got too bad, but it did seem like Joe was ready to defend himself and defend Kendall's honor in any way that he needed to.
After Leo used his "toast" in front of the rest of the contestants to insult Kendall, Joe confronted him about it away from the rest of the group. What followed, however, was a big blowout rather than a discussion about Leo's actions and words while in Paradise. And although it could have been a lot worse than it was, it was the final nail in the coffin with regards to Leo's sinking reputation.
In the end, Leo and Joe's fight on BiP actually helped Joe and Kendall's relationship. She said in the episode that it made her realize how important Joe is to her and how much she appreciates the way he sticks up for her. I mean, I know I can't be the only person watching who suddenly loved Joe even more after he stood up for Kendall. To be fair, she seemed totally capable of standing up for herself when she was arguing with Leo in private, but Joe wasn't about to let Leo be rude to her. Luckily, it was a quick altercation that ended with Joe gaining the upper hand in the long run.