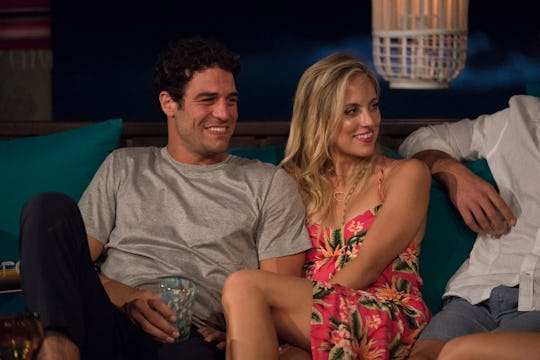 Paul Hebert/ABC
There May Be Some Social Media Clues That Kendall Doesn't Pick Leo On 'BIP'
Another week, another love triangle for contestants to detangle themselves from on Bachelor in Paradise. The latest drama involves Kendall, Leo, and Grocery Store Joe. While Kendall and Joe may have started off on the right foot, Leo's arrival shook things up a bit and now Kendall has a big decision to make. Luckily, one fan on Twitter has * proof* that Kendall doesn't pick Leo on Bachelor in Paradise and for viewers who stan Joe, it's definitely good news.
The Twitter user dug deep into the recesses of Instagram, as any Bachelor sleuth must do, to find the dirt. They discovered that not only does Leo not follow Kendall on the 'gram, but she doesn't follow him either. On the flip-side, Joe not only follows Kendall and vice versa, but he also follows her twin sister on Instagram. That could mean that he's already met her, which could also mean that Joe and Kendall's relationship is still going strong after Bachelor in Paradise.
Right now, it's mostly speculation, but as anyone who's ever spent just a bit too much time snooping around an ex-paramour or old friend's social media pages knows, follows and likes don't lie.
After doing a little digging of my own, I found that Joe is actually one of a handful of Bachelor Nation stars who follow Kendall's sister. The other followers include Benoit Beauséjour-Savard, Courtney Dober, and Bekah Martinez. But Kendall hasn't been romantically linked to any of those people, so I'm taking this to mean that she has introduced Joe to her family and they like him and Leo has been forgotten.
Joe has actually liked a ton of photos on Kendall's Instagram and vice versa, which could also mean that the two stayed together after filming was over. For example, Kendall posted several photos of herself alone at a winery that Joe liked. I'm just saying that if she was with friends, wouldn't she have posted some group shots as well? Think about it.
Fans certainly hope that Kendall and Joe end up together on BiP and stay together afterward, but they haven't really given away any clues one way or the other. That's usually how it goes with BiP, but because of the way the triangle between Kendall, Joe, and Leo has progressed, fans aren't wild about Leo at the moment.
When Leo arrived in Paradise, it seemed like Kendall was immediately interested in him. The two went on a romantic date that they both seemed to enjoy. But then soon after they got back to the resort, Leo was macking on Chelsea in the hot tub. Kendall, who had been torn between Joe and Leo, was understandably upset when Kevin spilled the beans about the kiss to her much later. When it all came out, Leo stormed around the resort looking for the "snitch," before eventually complaining to Kendall that she ruined his day, accused her of faking her feelings with him, and also adding that she's a fantastic person. Twitter was quick to call out Leo's behavior as toxic.
So naturally, the idea that Kendall and Joe might really be together now, no matter how tenuous the evidence, has fans all in a tizzy. All I'm saying is that you don't follow just anybody's twin sister on Instagram.