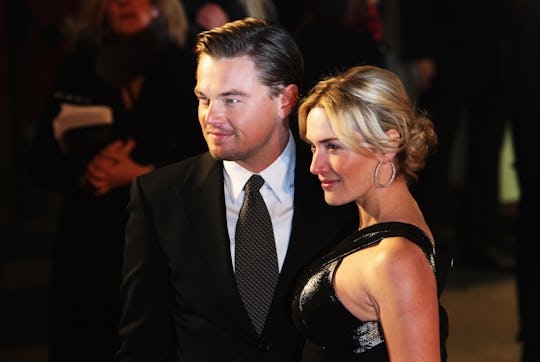 Getty Images
Leonardo DiCaprio & Kate Winslet Are Both Nominated For Oscars, So Our Hearts Can Go On
After watching them reunite at the Golden Globes, it's hard to contain the excitement knowing that Leonardo DiCaprio and Kate Winslet are both nominated for an Oscar this year. Looks like our hearts really can go on. DiCaprio was nominated for Best Actor for his work in The Revenant and Winslet for Best Actress in a Supporting Role in Steve Jobs.
But let's be real. They two will always be Jack and Rose, to everyone, and for good reason: Titanic won 11 Academy Awards that year, including Best Picture. Winslet was up for Best Actress but lost to Helen Hunt for As Good as It Gets. Leo's Jack got no nominations at all that year — DiCaprio's reputation for being snubbed goes way, way back.
But the most important thing about Leo and Kate being nominated together is that it puts them in the same room for a night. Fans will get to see their chemistry bubble and their long-standing adoration for one another take another spin around an awards room. Just look at the 2016 Golden Globes this year: the Internet freaked out when the cameras panned to them talking to each other and embracing. And when Leo won for Best Actor at the Globes this year, Kate was the first one to give the man a hug and she even declared her love for him during her acceptance speech. It's almost too much to handle.
Now that they are both nominated for an Oscar this year, everyone's getting ready for another love fest.
They both deserve an Oscar this year. But more than anything else, all of us deserve to just watch them support and love each other again. They're so good together, can't they just let the magic of winning an Oscar light some sparks and date in real life already? They've got to be sick of hearing that. But I'll never let go.
Image: Dan Kitwood/Getty Images